This Styling Duo Is Making Their Tips And Tricks Accessible For All Women With A New Line Of Undergarments
Courtesy of The KiT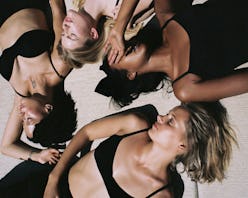 No one needs to tell you that what you wear beneath your clothes acts as the foundation of your entire wardrobe. Often times, shoppers sacrifice a bit of comfort here for the sake of fashion — in the form of a slightly (OK, majorly) uncomfortable underwire bra, or a waistband that somehow sits both too high and too low. But this is slowly changing, thanks to newcomers like The KiT's undergarments collection. Launched Oct. 6, the new brand features innovative bras, laser-cut underwear, and sleek bodysuits dreamt into life by two celebrity stylists.
As you can imagine, the duo — who've styled the likes of Kim Kardashian, Katy Perry, and Jessica Alba — have picked up a few tricks. "As friends and stylists, we know what it takes to get dressed. And through our work with women and women's bodies, we wanted to create the undergarments that we found missing in the market, the items we were looking for in our own styling kits, and the pieces we knew every woman needed," noted The KiT's Founders, Jamie Mizrahi and Simone Harouche, on the brand's official Instagram account (which, in case you're curious, has already amassed an impressive cult following).
So, how does The KiT fill the gaps in the industry? There are gorgeous pieces in Instagram-friendly muted colorways with clever hidden details — like the Molded Strapless Bra, which includes a wider bridge for extra support. Then, there are the pieces on The KiT's store you would've never known you needed until the moment called for them, such as its $12 3 Hook & Eye Back Bra Extender or $18 Adhesive Thong.
Like other new brands, The KiT has forgone a traditional clothing size guide in favor of a streamlined number system. The KiT's sizing features numbers 1 through 6, which correlate to size XS through XXL and 32A through 38DD respectively.
Besides being able to buy The KiT's products individually — for competitive prices, such as $64 for the Classic Demi Bra or $20 for the Classic Thong — you can purchase an entire Kit underwear and bra system. Better yet, the Kits allow shoppers interested in picking up more than one piece from the brand to save a bit of money; for example, The Starter Demi Kit retails at $98 versus the regular $110 price to buy each piece separately.
During the month of October, any Kit purchase you make will also give back to someone else. 3 percent of the purchase price from each Kit sold throughout the month will benefit the Women's Cancer Research Fund. "In launching The KiT, we wanted to take the opportunity to raise awareness and give back to a cause that personally means a lot to us," explained Mizrahi and Harouche in a press email. "We have always admired WCRF for their passionate and boundless efforts to find a cure for breast cancer, a disease that has impacted the lives of so many, including those closest to us."
Explore The KiT's entire new offering by clicking over to the brand's website. Below, five new pieces from the brand to check out first.