The RealReal Created A Capsule With This Sustainable Jewelry Brand — & The Result Is Stunning
Courtesy of The RealReal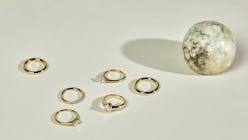 What happens when you combine a luxury consignment store like The RealReal with the artistry swiftly making the jewelry brand Ceremony famous? You get six incredibly unique, sustainable rings, exclusive to The RealReal, with plenty of time left to order and receive yours by Valentine's Day. Or, in so many words, The RealReal x Ceremony collection, which landed on The RealReal's website Feb. 6.
While the pre-Valentine's Day release was timed well, the collection isn't made of just traditional engagement rings. Although two of the rings do feature delicate diamonds and yellow gold — and all of the designs would make gorgeous engagement rings — the other four are made with colorful gemstones and even pearls. (A first for Ceremony, not that you'd be able to tell from the beautiful pearl ring's design.)
Compared to other engagement ring and fine jewelry styles, the collection's prices are reasonable enough that you may be tempted to just buy one yourself, for yourself. The collection starts at $1,100 for the pearl ring and tops out at the luxurious $2,900 18K Alder I Pavé Band, a golden band covered in 107 tiny diamonds.
The rings are even more tempting since only two of the pearl rings and Alder II designs are available — and only one of each of the remaining four rings (which includes the Anise ring styles and the Alder I Pavé Band). So once each of the rings are bought at The RealReal, they're gone for good.
But the two brands didn't just choose to make the four rings one-of-a-kind in order to entice buyers; the nature of the gemstones is behind it. Ceremony crafted the rings from recycled gemstones, like the unique pale blue sapphire that adorns the $1,650 18K Anise Sapphire Ring. Chelsea Nicholson, who co-founded Ceremony with J.Hannah's Jess Hannah, said in an interview on The RealReal she believed creating with recycled stones is the most sustainable option, and that it's something Ceremony tries to do as often as it can.
Not only is it sustainable, but breathing new life into gemstones celebrates how the The RealReal works as a store, as well. If you're lucky to be in Los Angeles you can see all of the collection's rings in-person at the The RealReal's LA store. Otherwise, shop the six rings from the collection below.