The Best Place To Find Unique Fashion Gifts For Everyone You Know
The RealReal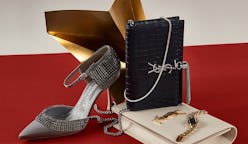 Now that the holiday season has officially arrived, more likely than not you have a handful of parties, get-togethers, and gift exchanges to start — or more realistically, continue — shopping for. If you're looking to get the ultimate gift for the fashionable people on your list, The RealReal will have anything you could be looking for. Whether it's a cool watch for your father who keeps saying he doesn't need a gift for the holiday, or that timeless designer purse your little sister has been eyeing for years, the luxury consignment site has it all.
When you're already tasked with a million things during such a busy time of year, it can be difficult to set aside time from your schedule to go on various shopping sprees — especially when they involve visits to stores in multiple locations. Rather than trying to map out your route by the minute and going back and forth across the city, why not take a look through The RealReal instead? Not only can you shop from the comfort of your own home, but you'll also have access to some of the best gently-used designer pieces out there for a fraction of the price.
Of course, considering the sheer volume of products The RealReal has to offer, it's understandable that you might get a little overwhelmed scrolling through the endless pages of designer goods. Not to worry: Once you know what you're looking for, shopping for your loved ones will be a breeze.
For your mother who deserves the world, get her this classic Phoebe Philo-era Céline 2016 Long Coat, $2,195 which she'll not only cherish for years, but will also be the most stylish woman among her peers. As for the father who keeps saying he doesn't want anything for the holidays, surprise him with this beautiful Breitling Chronomat Watch, $4,075. You can bet it will be one of the greatest gifts he'll receive this season.
While you consider the lifestyles of your siblings, The RealReal has you covered. For your brother who's always on the move, whether he's traveling for work or jet setting on a vacation, you can't go wrong with this Tumi V3 Expandable Packing Case, which you can buy for $395. As for your sister, get her a classic handbag she can use every day, such as this Louis Vuitton Monogram Speedy 30, $625.
In the craziness of the holiday season, you certainly can't forget the ones who aren't related to you, either. Gift your BFF with this pretty Hermès Washington's Carriage Silk Scarf, available for $225, to add a bit of flair to any of her outfits. And of course, there's your S.O. to consider, too. Give them a luxe wallet like this one from Cartier to replace the worn-in one they've been using for years — they'll be forever grateful.
Without any question, The RealReal will be your one-stop shop this holiday season for all the luxury lovers in your life. Scroll down to see more chic gifts to get everyone on your list this holiday. You'll surely be known as one of the best gift givers of the season.
Mother
Father
Sister
Brother
Best Friend
Significant Other