Everyone Thinks I Got A Fresh Pedicure When I Wear These $8 Press-Ons
Imaxtree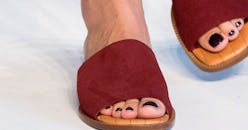 There are a few key things to know about me, should you be the least bit curious. I'm deathly afraid of cats (long story); I hate tomatoes and bananas; and I'm really low on patience. The first two are wildcard facts, but the latter is something that affects my beauty routine — and with my being a beauty editor and all, it's a tiny bit problematic. I love getting my nails done, for example, but hate spending an extra 40 minutes underneath the hand dryer. Which is why I am dangerously in love with press-on toenail polish — the imPRESS Press-On Pedicure to be exact.
I already sense you rolling your eyes through the screen, so allow me to defend myself here. These aren't the tacky French tip press-ons that you tried back in middle school, my friends. I actually swear by imPRESS Press-On Manicures, too, as they come in a variety of lengths and fashion-forward designs... and they actually stay on, too, thanks to the SuperHold Adhesive technology. The $8 price point doesn't hurt, either. When I don't have time (or, uhh, tolerance) for a real manicure, I just pop the nails on while in the back of an Uber — or even on a moving train — and go about my day. I always get compliments on my flawless mani whenever I wear them, leading friends to believe that I went to a buzzy salon like Vanity Projects or Akiko.
So when the Press-On Pedicures launched last year, you already know that I was all in. Was I a little bit unsure of how the stickers would stay on while I rush from appointment to appointment or when I shove my feet into my favorite pair of loafers, for example. If you live in New York, you know that the city can be hard on shoes... and in return, hard on your feet. But trust me: these are the truth. So much so that I nearly prefer them over real pedicures. To clarify: there are still plenty of health benefits to getting real pedicures, since the most basic aspects of the procedure include soaking and exfoliation (as long as you're bringing your own tools and following other specific precautions to prevent bacteria and fungus transfer). I use a pumice stone for exfoliation when my heels feel rough, and make sure to moisturize with a nice, luxe foot cream pretty consistently. And then instead of fiddling around with messy nail polish, I just press on my Press-On Pedicures and boom — a salon-level pedicure in the comfort of my own home, and in five minutes flat, at that.
If you're concerned about the safety of the nails, then fear not. Dr. Joshua Zeichner, MD, FAAD, Director of Cosmetic & Clinical Research in Dermatology at Mount Sinai Hospital in New York City, tells me that most press-on nails use a weak adhesive that isn't technically damaging to the nails themselves. "The ingredients that allow the adhesives to stick to the nails are called acrylates," he explains. "Different acrylates give a stronger or weaker bond." The trade-off, however, is that the fake nails can easily fall off the finger, and removing them can cause damage if you're tearing them off. "In some cases, chemicals like acetone can be used to dissolve the adhesive," he continues. "However, they often have a drying effect on the nails themselves. This can leave the outer layer of the nail disrupted, dry, and weak." (For the record, the brand recommends gently peeling the nail off from the corner, and using a bit of acetone around the edges for ease if they still don't give).
Although my patience is something that I'm still trying to improve, this stick-on polish allows me more time in my schedule to work on it. I'll spare you a photo of my own feet, but if you'd like to try them yourself, keep on scrollin'.