These Alice + Olivia Press-On Nails Are The Best $7.99 You'll Spend
imPRESS Press-On Manicure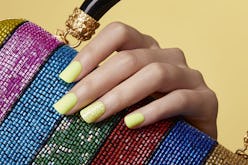 Nail art is the unsung hero of fashion month. People tend to focus on the trend-setting makeup looks and hairstyles. The manicures, however, are a science like none other. You haven't seen talent until you've watched a manicurist apply several coats of polish and paint on a design on two-dozen-plus models in the span of 15 minutes. But at Alice + Olivia's spring 2019 presentation, Stacey Bendet and manicurist Miss Pop thought ahead by using Alice + Olivia press-on nails by imPRESS on the models. Instagram went crazy for the designs, oooh-ing and ahh-ing over the bright colors and symbols. Now, you can get a piece of the action with imPRESS' limited edition collaboration with the designer.
"We created the nails to go with the spring 2019 collection, which is all about women of the world," Bendet tells The Zoe Report at a launch event. "We really wanted all different styles that went back to our prints and colors for spring, but also gave a little something to every kind of woman." For the conservative set, Bendet suggests going with an accent nail. But if you love color (as most Alice + Olivia fans do!), neon will be your vibe. "I did neon last spring, but sometimes you can recut things," she notes. "So we had a really big neon yellow story and brought it back for spring."
And as for the Stace Face (the cartoon figure with big, black sunglasses and red lipstick)? That's Bendet herself, of course. "On most days, I have on big sunglasses and a red lip. The drawing of me as a cartoon turned into a phenomenon of shoes and bags and everything else," she says.
The red evil eye design is one that has special meaning to the designer as well, as it represents protection by warding off bad energy. To match that vibe, she even had a smudge station where guests could add lavender, palo santo, and other elements to their own bundles of sage. (When burnt, it's said that you're "smudging" sage, which can also ward off bad vibes.)
While Bendet's designs are universally appealing, she wanted to add that same element of accessibility to this collection. "The nail designs are partially about my travel, but also speak to the fact that now [is] the time we need women of the world to be coming together and working together and believing in one another," she reflects. "Fashion is something that brings people together. I wanted to show different prints and styles that resonate and represent women everywhere."
If you're a press-on newbie, the process is ridiculously easy. File and shape your nail slightly over the quick of the nail, celebrity manicurist Gina Edwards instructs. Then, cleanse them with the included alcohol wipe. This is important, as the most common mistake made when applying press-on nails is not properly cleaning the nail surface. "Make sure to spend extra time on this step," As you apply the full nail, work at a 45-degree angle from the cuticle and press down toward the tip of your nail. If they're too long, you can always file and cut them down as the material is pliable.
Ahead, see the entire collection — and grab them while you can, as it's a limited edition.