7 Runway Shoe Trends You Need To Know About For Spring 2020
Courtesy Ekhaus Latta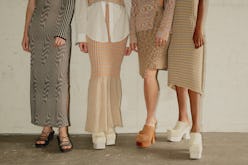 After an entire month of fashion shows, runways start to blur together. And as someone with a day job, hobbies, side hustles, and, oh yeah, personal time, sifting through hundreds of runways to figure out which trends you should buy probably isn't going to happen. To make the task a bit less daunting, consider starting your trend shopping from the ground up. Specifically, with the Spring/Summer 2020 shoe trends straight from the runways of Milan, London, New York, and Paris. Because if there is any trend worth remembering in six months, it's the one you'll be walking in.
Each major city offers its own strengths when it comes to footwear inspiration. New York is great for indie designers, Milan is the place for luxe leather accessories, London is quirky and cool, and Paris is always over-the-top. Still, there are a few trends that tie each city together. Of course, for the warmer months of 2020, you can expect plenty of open-toe designs, but it's not only about sandals. In fact, walkers will rejoice: Comfort was a priority this season, with flats and platforms making a comeback.
Once you unpack the seven shoe trends of Spring/Summer 2020 fashion week below, you can get back to the pure joy that lies in envisioning just how you'll be styling the trends ahead.
Higher Ground
Tibi Spring/Summer 2020. Photo: PIXELFORMULA/SIPA/Shutterstock
Louis Vuitton Spring/Summer 2020. Photo: Shutterstock
Give your feet a bit of support with a strong platform. Leather boots from brands including Louis Vuitton and Tibi give a look a '70s luxe vibe. But lifted sandals were also a popular choice, both flat styles and ones with a heel.
Mary Janes
Coach Spring/Summer 2020. Photo: Shutterstock
Marine Serre Spring/Summer 2020. Photo: PIXELFORMULA/SIPA/Shutterstock
In previous seasons, high-fashion nostalgia came in the form of tie-die or shell jewelry. This season Mary Jane shoes take the cake. Reimagined Mary Janes from brands Coach, Marine Serre, and A.P.C. are embellished in satin and come in funky, colored patent, too.
All About Ankles
Prabal Gurung Spring/Summer 2020. Photo: Shutterstock
JW Anderson Spring/Summer 2020. Photo: Shutterstock
Spring is all about embracing bare toes and leans into beachy motifs. For 2020, all attention is on the ankle, with ankle-wrapped thongs, espadrilles, and gladiator-style sandals all appearing on runways in every city. Since this footwear is intricate and dainty, yet still comfortable, it's the ideal shoe for day-to-night dressing.
Modern Loafer
Lanvin Spring/Summer 2020. Photo: Shutterstock
Loewe Spring/Summer 2020. Photo: Shutterstock
Loafers have made a huge comeback for fall, but a new heeled iteration was popular across a number of runways for 2020. Whether a mule, slingback, or slip-on version, this spring prepare to style all of your favorite ensembles with a sophisticated and chic heeled style.
Shimmer And Shine
Jeremy Scott Spring/Summer 2020. Photo: Pixelformula/SIPA/Shutterstock
Bottega Veneta Spring/Summer 2020. Photo: Shutterstock
Metallic boots for daytime, you ask? Why, yes. Chanel may have jump-started the trend with its drool-worthy glitter boots from 2017, but spring's trend is less glitter and more of a foil or mirrored look. The standout from the entire season would likely be Bottega Veneta's disco ball shoe, because who can resist something that catches the light so perfectly?
The Clog
Eckhaus Latta Spring/Summer 2020. Photo: Courtesy Eckhaus Latta
Arthur Arbesser Spring/Summer 2020. Photo: Shutterstock
Love them or hate them, clogs are coming back in 2020. The footwear is a bit clunky sure, but it's also entirely comfortable, and aligns with the '70s vibes seen on many of the season's top runways. Try styling with a pair of statement socks to keep the shoes from feeling too awkward with a more pared-down look.
Seing Double
Proenza Schouler Spring/Summer 2020. Photo: Shutterstock
Staud Spring/Summer 2020. Photo: Ovidiu Hrubaru/WWD/Shutterstock
No spring season is complete without a debut of the easy, everyday shoe of choice. For the season ahead, sandals take on a '90 motif of double-straps, as seen on the runways of Rag and Bone and Staud. It's the kind of shoe that may not wow a crowd, but it will be your go to every warm day of 2020.