Outdoor Voices' Newest Collection Is Designed With Cold-Weather Cardio In Mind
Outdoor Voices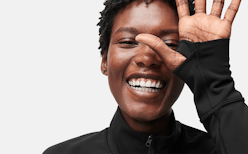 Working out during the colder months of the year can be off-putting to say the least. Whether it's a 5-mile run in the early morning each day or a quick commute heading to and from your studio classes, the sole thought of embracing the cold is enough to keep you from fitting a workout into your schedule. That said, a good sweat session can lead to major mood boost — and if the biting winds are the only reason stopping you from maintaining your fitness routine, all you need is some quality winter workout gear. Lucky for you, Outdoor Voices' cold-weather collection has arrived just in time to keep you warm through every workout for the rest of the season.
There's no denying that a chic set of workout clothes will motivate anyone to get out of the house and make their way to the gym. Of course, when the days are filled with more wind chill than sunlight, bundling up for a cardio-packed workout is probably the last thing you want to do. If that's the case, why not opt for something that looks and feels a little sleeker, without compromising on your comfort or warmth? Enter: Outdoor Voice's FrostKnit capsule collection, which was designed specifically for this purpose.
The collection features two key pieces that'll work for nearly every cold-weather workout. First, there's the FrostKnit Full-Zip, which is available for $125. Complete with thumbholes to keep your hands warm and your fingers free, this cozy jacket is the essential piece for your winter Pilates sessions, as well as weekend errands. Complete the look with FrostKnit 7/8 Leggings, which cost $115 and are OV's warmest leggings yet. Each style — which is available in black and green — are designed with a soft, mossed interior that guarantees you the perfect level of warmth for your next sweat.
Whether you happen to live an area with temperatures resembling that of the arctic tundra, or your idea of cold is just under 65 degrees, Outdoor Voices' FrostKnit collection is exactly what you need to get through your winter workouts.
Scroll down to shop the FrostKnit collection below.