Here's How To Get 25 Percent Off At Outdoor Voice's Black Friday Sale
Outdoor Voices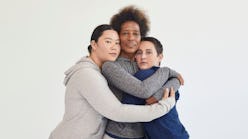 Whether you've been a fan of Outdoor Voices since its humble beginnings or have recently jumped into the world of #DoingThings, most can agree that any of its items are worth having in your wardrobe. From classic workout staples to cozy outer layers, the direct-to-consumer brand boasts a virtually endless supply of comfortable options to wear for any casual occasion. And thanks to the Outdoor Voices Black Friday sale, you'll be able to stock up on nearly everything the brand has to offer.
When you think of Outdoor Voices, it's probably the brand's cult-favorite leggings or athletic tops that come to mind. Or perhaps it's one of its other bestselling pieces, like the Exercise Dress or a style from the MegaFleece collection. Regardless, there's one thing that's obvious about the Austin-based label: When it comes to making chic, quality activewear, Outdoor Voices knows what it's doing. And when it's putting almost everything in its stock up for a major discount, you just can't ignore it.
Starting right on Black Friday —which is Nov. 29 — Outdoor Voices will be offering 25 percent off on all of its items when you use the code "THANKS25" at the checkout. The only things that aren't part of the sale are the OV Kits, 3rd party items, and gift cards. Besides those few, the options are practically infinite. Outdoor Voices' Black Friday sale goes on until Dec. 2, so be sure to get in as many pieces as you need during the holiday shopping weekend.
Without a doubt, this is the perfect time to get yourself (or a loved one) the MegaFleece Snap Up. Available for $135, this warm fleece pullover will be the perfect fall and winter essential to throw on and go. You can also stock up on pieces from the brand's CloudKnit collection like the CloudKnit Hoodie and the CloudKnit Sweatpants, which each costs $85 and are perfect for traveling to family get-togethers.
While you're filling up your cart, feel free to add in classic OV staples like the $85 3/4 Two-Tone Leggings — which first put the brand on the map — or the $45 Athena Crop Top. Just in case you feel like wearing a dress for your next workout, or you simply want a comfortable option to wear any time, the Exercise Dress is available for $100 and comes in nine different colors ways and patterns.
Scroll down to shop TZR's picks for Outdoor Voices' Black Friday sale below.