Outdoor Voices Has A New Campaign (& Collection) That's All About Getting You Back Into Nature
Courtesy of Outdoor Voices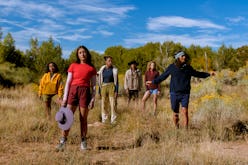 Most people, at some point or another, have probably heard the phrase "Use your indoor voice." Whether it was within the stacks of the local library or another enclosed space, maintaining a hushed, or at the very least, calmer tone has always been the norm for everyday settings. Well, as you've probably noticed, Outdoor Voices aims to change that. The cool-girl activewear label is constantly encouraging people to be #DoingThings. And now that Outdoor Voices' "Use Your Outdoor Voice" campaign has arrived — along with the brand's OV Outdoors collection — there's no doubt you'll be doing all of these things outside.
No matter what your plans are for this season, whether it's a weekend camping trip with your friends, a simple hike, or everyday errands, Outdoor Voices has you covered. The brand behind cult-favorite items like the Exercise Dress and color-blocked leggings has launched a new campaign featuring everyday recreationalists against the backdrop of the great outdoors that'll inspire you to spend every day this season outside.
If that wasn't enough, Outdoor Voices launched a collection of layering pieces just in time for the temperatures to drop (and yes, it includes the label's best-selling $135 MegaFleece Half-Zip Hoodie). And because the brand firmly believes in getting everyone outdoors and exploring the world, Outdoor Voices has teamed up with Merrell to create the Moab 2 Mid Waterproof Boot, which will be available on Oct. 15 for $130.
Courtesy of Outdoor Voices
Courtesy of Outdoor Voices
This time of year often calls for layering on your coziest knitwear and curling up with a cup of hot cider or mulled wine. That said, you can't stay inside all of the time. So, when nature calls you to leave the house, Outdoor Voices' OV Outdoors collection will keep you warm and chic the entire way.
Whether you're looking forward to being in full-on sweater weather mode or you're still hanging onto the final warm days of the season, the $55 Merino Fitted T-Shirt is the perfect place to start building your fall activewear wardrobe. Wear it now with a pair of biker shorts or leggings while the sun still keeps you warm. And when the temperatures drop further, opt for the Merino Fitted Longsleeve T-shirt, which costs $65 and will be the essential base layer for all of your fall and winter ensembles.
Planning to go on a hike in the cooler weather? You're in luck: Outdoor Voices has created the RecTrek Zip-Off Pants, which will be available on Oct. 17 for $115. Don't worry — while these pants may zip-off to become capris and shorts, they are definitely not like the ones your dad might have worn.
Ready to use your outdoor voice? Scroll down to see the pieces from the Outdoor Voices' OV Outdoors collection that you can shop now below.