This Cult-Favorite Outdoor Voices Piece Just Got A Bunch Of New Colors & Fans Are Going To Be Thrilled
Courtesy of Outdoor Voices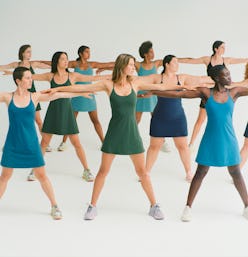 In an era where athleisure has become a regular part of everyone's wardrobe, the line between activewear and regular clothes is becoming more blurred than ever. People are no longer debating whether or not leggings can be worn as pants, and earlier this summer, tennis skorts made a case to replace the major trend of biker shorts. At this point, there are tons of brands creating stylish workout pieces you'll want to wear outside of the gym. However, there are few that have made as big of an impact as Outdoor Voices' Exercise Dress.
When Outdoor Voices first introduced its Exercise Dress to the world in May 2018, everyone from fashion editors and influencers to fitness experts immediately became obsessed. Over the time the Exercise Dress has been available, it's only gotten better with the addition of a shorts liner featuring a phone pocket, making it a piece you'll truly want to wear for every and any activity.
Considering all of the popularity surrounding Outdoor Voices' Exercise Dress — not to mention the brand's consistent artistry in choosing chic color schemes — it only makes sense that the brand would be introducing the style in three new colorways. And to top it all off, Outdoor Voices is bringing back four of its original colorways, too.
Just in time for the new season, Outdoor Voices is offering its fan-favorite Exercise Dress —which is available for $100 and has a near-perfect rating based on 248 reviews — in Dove Frost, Mineral Blooms, and Provincial Blue. For the minimalists who like to sport prints for their workouts, opt for the pale gray speckled Dove Frost and style it with your favorite black or metallic silver exercise jacket as soon as the temperatures drop. And if you prefer a bit of color, you can always opt for the dress in the floral Mineral Blooms.
Of course, if you prefer to keep your activewear in the realm of solids, you can't go wrong with Provincial Blue, a muted blue-gray. Wear it on its own throughout the end of summer for an easy everyday option. And if you need an added layer, pair it with a navy tie-dye sweater or sweatshirt to create a tonal look.
Missing some of your old favorites? Outdoor Voices is also relaunching existing colorways including Evergreen, Black Polka, Black, and Navy — so you can snag one in a color you've eyed before or just replace your worn-out dress with a brand-new piece.
Scroll down to shop Outdoor Voices' Exercise Dress below.