An Inside Look Into & Other Stories' Fall 2019 Collection (According To Its Campaign Star)
Courtesy of & Other Stories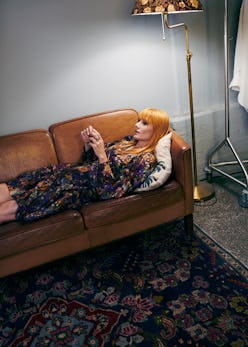 No matter how many pages of street style you go through — or how many minutes you spend scrolling on Instagram — sartorial inspiration is just that: inspiration. Sure, you're probably bookmarking certain ideas to recreate for various occasions. But let's be honest: One of the best parts of getting dressed is making an ensemble your own. Of course, this sentiment doesn't strictly apply to fashion. And if the & Other Stories x Sandra Andreis Fall/Winter 2019 Capsule Collection is showing you anything, it's that it can be used for any area in your life.
For its latest collection, & Other Stories partnered with Swedish actor and musician Sandra Andreis to create a collection of chic fall staples in tandem with her debut EP, Raising My Standards. On the album, Andreis reinterprets the lyrics of five classic songs — including "The Lady is a Tramp," which is rewritten as "The Lady is a Champ" — as a way to empower and encourage women to stay true to themselves.
"As an independent artist, you have to learn self-advocacy, but at the same time, I am greatly inspired by collaborating with other women along the way," Andreis tells The Zoe Report. "To create The Lady is a Champ collab together, in the spirit of my music and its message, has meant a lot to me…I really hope that the music and collection can inspire women to be champions, not only [to] themselves, but also each other."
Available on Stories.com, the & Other Stories x Sandra Andreis capsule collection ranges from $129 to $249 and includes whimsical dresses, streamlined jackets, timeless trousers, accessories, and more. And because these styles are so classic, you can put your unique spin on these cool pieces for any setting — whether it's to the office or weekend brunch.
If you've got dressing for the office in mind, you can't go wrong with the Oversized Double Breasted Blazer, which is available for $219. Wear it with the $129 Watercolour Ruffle Mini Wrap Dress and a pair of classic knee-high boots for a quintessential fall ensemble, or style it with the Tailored Cuffed Hem Trousers, also $129, for a streamlined look that can be worn to work or a holiday party.
Speaking of holiday parties, if you have a few to look forward to this season, wear the Puff Sleeve Ruffled Mini Dress with simple heels, like the Croc Embossed Flared Heel Pumps, which are both available for $129. Be sure to give this ensemble a personal twist with your favorite jewelry or hair accessories. And if you need an extra layer to combat chilling winds, the $249 Oversized Single Button Coat will be all you need.
Scroll down to see more pieces from the & Other Stories x Sandra Andreis capsule collection below.