The Sleek Hair Accessories That Are Replacing Their Colorful Counterparts For Fall
Courtesy of Deborah Pagani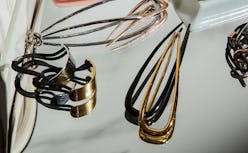 Last year, hair accessories were only beginning to make their way into the lives of nearly every fashion and beauty lover. Now, it's hard not to turn your head or scroll through Instagram to find someone wearing '80s-inspired scrunchies, statement hair clips, or an exaggerated headband. And while this trend of hair adornments isn't slowing down any time soon, it's taking on a new look for fall. Rather than opting for head-turning volume or details, designers have been creating gold hair accessories that will instantly elevate your ensemble.
Perhaps it's a reaction to the supersized hair accessories that have been mimicking the ones you loved as a child or an answer to everyone's obsession for minimalist details in dainty jewelry and other fashion items, but brands have been coming out with ultra-sleek and polished gold-hued hair accessories that'll go with everything you own. Whether it's in the form of streamlined barrettes to hold back your strands or an elegant pin to replace your standard elastic tie, this sophisticated trend is one you'll be sporting for years. And, like classic gold jewelry, these pieces are simply timeless.
For those who consider themselves minimalists to the core, opt for one of Sylvain Le Hen's pieces, like the $66 Gold Barrette 022. If you like to wear your hair in a ponytail, Saskia Diez's $113 Gold Oval Hair Tie will be for you. Another option is the $85 Open Pill Hair Cuff by Deborah Pagani, which was specifically designed to fit the curve of your wrist when you aren't wearing it in your hair.
Anyone who's experienced the inevitable hair dent from a traditional elastic band may want to try out the Large Sleek Hair Pin, which is available for $90 and is also from Deborah Pagani. As someone who has worn this piece throughout an extensive dance class, I can tell you one thing: It'll definitely hold everything up. But of course, you aren't always in need of something to tightly hold your hair in place, in which case Missoma's $39 Spike Hair Clip Set is the perfect thing to keep those fly-away strands at bay.
Scroll down to update your hair accessories collection with these gold styles.