This Modern Jewelry Trend Is The Coolest Way To Add Color To Your Outfits
EF Collection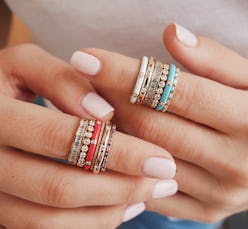 While colorful fashion pieces have never really been cast aside for their simpler and more understated counterparts, it seems as though fashion lovers — no matter where they fall on the spectrum between minimalism and maximalism — are choosing to wear bright and vibrant options more than ever before. And with 2019's enamel jewelry trend, you'll be able to add playful pops of color into your ensembles in a cool and modern way — plus, it can be worn for any occasion.
Chances are you've already stocked up on your rainbow jewelry for the season; fashion influencers and editors have been wearing the trend everywhere since spring. And while most of these candy-colored pieces entered onto the fashion scene with colorful gemstones, they're also taking an unexpected approach with sleek enamel details — and no, they don't look like the baubles of your childhood.
Enamel — aka the protective coating painted over metal — has had a long history with the jewelry industry and is now making a resurgence as a way to add color and highlight other parts of each piece. According to Zani Gugelmann, the designer behind SANTO, she uses enamel in her designs because of the way it makes her pieces stand out. "I love being able to use the centuries-old technique of enameling in modern designs that make my pieces pop against gold, diamonds and semi-precious stones," she tells The Zoe Report in an email.
Similarly, Jessica Klein, the founder and designer of Bondeye, uses enamel because it gives her a way to infuse something new into her pieces and show her personality. "I choose to work with enamel because of the color it brings to my collections," she shares with TZR. "I change my jewelry daily, the same way we change our clothes. For me, enamel allows me to express myself through the jewelry I wear on any given day."
As an avid jewelry lover who keeps an eye on the latest trends — and as someone who straddles the line between being a minimalist and a maximalist — I've personally found that jewelry with enamel feels casual enough to wear every day, while still feeling elevated for special occasions. And, luckily for me (and other enamel lovers like myself) many other designers as of late have been using the material a cool and modern way to add color to their pieces — meaning right now, there are a ton of chic styles you won't be able to pass up.
For those of you who like to have an element of surprise in their baubles, SANTO's Shield Ring, which is inspired by old poison rings and costs $3,450, will be a piece in your collection for years. Or if you simply love color, you could also layer different versions of EF Collection's 3 Diamond Enamel Stack Ring, which each cost $550, onto your fingers. And if you want to wear something that feels a little cheekier, look no further than Alison Lou's $650 Enamel Lip Necklace.
If you're looking for options that'll fall seamlessly into your minimalist wardrobe, you can't go wrong with Bondeye's $1,350 Chrissy Hoops, which will feel bold without being traditional statement jewelry. And for those easy everyday occasions, you can stack Halleh's $2,200 Floating Tube Enamel Necklace with other dainty styles or wear it on its own.
If you're ready to start wearing this trend now, scroll down and shop more enamel jewelry pieces below.