The Ordinary's First-Ever Cleanser Is Here & Yes, It's As Affordable As You'd Expect
The Ordinary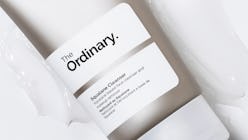 In an Instagram post officially announcing The Ordinary's Squalane Cleanser March 6, parent company Deciem commented that the product "took way too long" (adding the emoji of the monkey covering its eyes, for good measure). However, fans may disagree — while The Ordinary's devoted fanbase may've desperately wanted a cleanser from the skin care brand, any extra time spent formulating the first one shows. Available on The Ordinary's website, the cleanser gently moisturizes skin as it removes impurities and makeup, treating your face with the super-hydrating ingredient squalane.
Better yet, it only retails for $7.90. If that price seems suspiciously low to you, know that it's no surprise for The Ordinary's fans — it's known for being one of the most high-quality, affordable skin care brands out there. And this isn't the first time The Ordinary has harnessed powerful ingredients like squalane; its product lineup is basically a lesson in skin care science. The Ordinary currently offers both Plant-Derived Squalane and Plant-Derived Hemi-Squalane for $7.90 and $3.95 respectively, as well.
Still think the prices are too good to be true? Both squalane solutions have over 8-star ratings out of 10 on The Ordinary's website, with glowing reviews to back each up. This is a brand that knows its chemistry, but still keeps its prices down.
Speaking of science: There are some important aspects to pay special attention to when checking out the new cleanser. While The Ordinary notes it's free from alcohol, oil, and silicone, the product will have a "balm-like consistency" at first. The brand says you should rub the product in your hands for around 10 to 30 seconds; the simple action will change the cleanser from its balm-like state to a spreadable, oil-like texture. Moreover, The Ordinary notes the product's pH level is 5.50 to 6.50, meaning it may be a good option if you're on the hunt for a pH-balanced cleanser.
And, in case you needed one more reason to give the new product a whirl, Deciem also noted on Instagram that the cleanser removes waterproof mascara. Need it in your life now? Just keep scrolling down to shop the new Squalane Cleanser.