The Next Jewelry Trend Poised To Take Over Is Anything But Dainty
@aemiliafay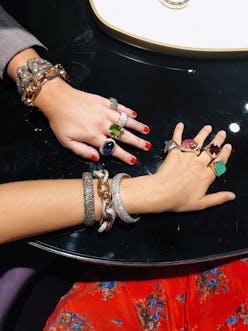 When it comes to fine jewelry trends, the use of non-traditional stones has grown in popularity over the last few years as younger shoppers look for styles that feel unique and unstuffy. Diamonds, rubies, sapphires, and emeralds (the traditional precious stones) remain in high-demand, but interest has swelled for "the new precious," a term Sabina Belli, Global CEO of Pomellato jewelry uses to define the family of semi precious stones that include the likes of tiger's eye, garnet, and lapis.
From a production standpoint, the increasing scarcity of precious stones has led brands to explore these non-traditional stones, but demand for distinctive and novel stones has also increased. Pomellato, a brand that helped to pioneer the use of colorful semi precious stones during the '60s and '70s, has increased their supply of semi precious jewelry to meet customers' demand for unexpected color and texture. Other fine jewelry brands have seen interest shift away from the cookie-cutter traditional styles for pieces that feel more personalized.
"The interest in semi precious gemstones has grown in my five-plus years making ceremonial jewelry," explains Anna Sheffield, a fine jewelry designer known for both engagement rings and everyday pieces. She adds that while settings or styling remains classic, customers are swapping out old-school stones for more unique options.
"I love the range of color and texture in semi precious stones," says Sheffield. "Contrasting them with diamonds and really classic designs just elevates them in a way that is not often seen with these gems." Sheffield adds that she likes to experiment with stones like opal and moonstone, explaining, "I think when people see them in the rings, they understand they were selected for a reason."
While many shoppers may arrive at these stones based on look or even price, for some, there is also a supernatural quality that attracts them to certain semi precious stones. Aiche claims that "more and more women are getting in touch with their spirituality and have begun to understand the power of positively charged stones."
Though use of crystals in relation to healing has existed for centuries in cultures ranging from the Hopi to Chinese, modern crystal healing is an alternative medicine in which practitioners use stones to target ailments and promote differing forms of positive energy. Though there is no scientific data proving the healing powers of different stones (there is, however, plenty of research supporting the benefits of the placebo effect), it remains a popular new age practice.
"Fine jewelry now is more about the healing energy you're receiving from wearing your crystal amulet," says Aiche, for whom the reported benefits of tourmaline are especially attractive. "The variety of colors is magical. Every slice is so unique and they have so many healing benefits."
Healing powers or no, the demand for and curiosity around semi precious stones continues to grow, making this a fine jewelry trend worth buying into now rather than later. Below, you'll find some of the best examples of the new fine jewelry trend to consider.