Outdoor Voices Made The Cozy Fleece Pullover You'll Never Want To Take Off This Winter
Courtesy of Outdoor Voices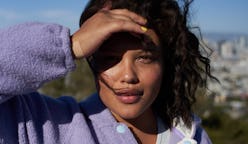 Finding a balance between having enough layers on to wearing too many (i.e. overheating) is a tricky business. This struggle may have even left you to forgo your winter runs and holiday hikes in the past. Here to alleviate that hole in your cold weather workout wardrobe is none other than Outdoor Voices with its new OV Outdoors Collection, which launched on Oct. 30.
The company who recently brought back its popular OV Kit is now taking on the cold weather with a collection that will allow you to stay active outdoors during the chillier months ahead. The newly launched pieces range from $55 to $135, and are essential styles meant to keep you warm during your workout commutes and outdoor activities when the temperature drop.
You'll be able to outfit your bottom half in TerraKnit leggings designed for the cold weather (put those summer styles away) and cozy fleece shorts with zip pockets that will safely hold keys plus the ever-important trail mix for longer hikes. However, it's the fleece pullovers within the new offerings that may get you the most excited. The classic style is having a resurgence this season, and even Gigi Hadid is working it into her street style looks.
If you're seeking a roomier fit to pop over everything from running gear to a sweater for non-workout days, check out the MegaFleece Pullover for $135. Coming in four colorways and made out of recycled wool, the pullover is designed to be both comfortable and functional. You won't be in any rush to take off this layer when the cooler weather really starts to roll in.
The ideal mid-layer piece in the collection is the OVFleece Half-Zip for $85. It's a must-have for cold winter workouts, and you can wear it on its own for milder temperatures or pull heavier layers over top for frosty days. The design of the internal grid structure gives the garment the breathability you'll want when exercising.
Layering is key during the colder months of the year, which means you'll need some cooler pieces to throw on under heavier jackets. The Merino tops from OV, available in short and long sleeve styles, tackle this problem head on. Designed with breathable fabric, these perfect-for-layering pieces will help you maintain a comfortable body temperature while also wicking away sweat to keep you dry.
If you haven't moved your warm weather workout clothing aside already, now is the time. Don't let the cooler temps stop you from continuing your workout routine. Scroll to start stocking up on the below pieces from Outdoor Voices' newest collection.