The Outdoor Voices Kits Everyone Loves Are Finally Making A (Very Affordable) Comeback
Courtesy Of Outdoor Voices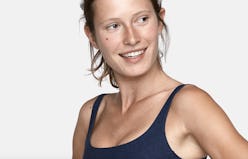 Shopping for the perfect combination of workout clothes is forever a puzzle. Will that neon sports bra go with your many pairs of navy leggings? Is that busy pattern overwhelming with those bright pink pants? There are so many options, and often many just aren't versatile enough to fit seamlessly into your wardrobe. Outdoor Voices (and its customers) clearly understand that struggle, which is why the activewear brand is bringing back its beloved OV Kit for women on Oct. 5, which allows shoppers to choose a top and bottom in best-selling styles from the brand so you can mix and match your workout wear with ease.
After surveying over 2,000 customers about their shopping experiences and receiving more than 30 responses advocating for the return of the kits, the brand is proving to its many fans that their feedback is heard by offering the popular OV Kit once again. And for those wondering if there are any major changes to the kit they've been asking for, there are a few very positive ones of note. The OV Kit, once $100, has been reduced to $95, and now comes with additional colorways. So if you loved it before, you now have even more reason to stock up on your favorite Outdoor Voices pieces.
There are six styles you can choose from to build your kit, including the 7/8 Warmup Legging, the 3/4 Warmup Legging, the 3/4 Two-Tone Legging, the Double-Time Bra, the Steeplechase Bra, and the Athena Crop. Each product is available in select colorways in the kit, many of which are neutrals that lend to the versatility of each of the pieces.
Outdoor Voices has a history of listening to the feedback of its customers — and delivering what they ask for. The brand updated its iconic leggings in September 2018 thanks to the suggestions of its shoppers with improvements like a more supportive waistband and a new phone pocket. And the brand is delivering yet again with the OV Kits, which allow you to get your favorite Outdoor Voices staples for a fraction of the price.
You can choose the pieces you want for your OV Kit now on Outdoor Voices' site. Considering the demand for it, you'll probably want to act fast if you're looking to score your favorite pieces — chances are Outdoor Voices shoppers aren't going to hold back on snatching up these kits now that they're back.