Aquazzura's New Collab Wants To Change The Way You Wear Fine Jewelry
Courtesy of NET-A-PORTER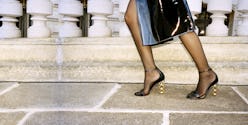 When you think of jewelry, you likely tend to envision adornments on the upper half of your body: Dangly earrings, statement necklaces, sparkly bracelets, and golden rings may come to mind. Well, you'll soon be considering an entirely new world of jewel-embellished items, thanks to the just-dropped Net-A-Porter x Aquazzura collab. The unique new capsule features a collection of exclusive, dazzling Aquazzura shoes designed with the help of five fine jewelry designers — and they're available to shop just in time for the holidays to get your feet looking fancy.
The collaboration, exclusive to Net-A-Porter, went live on site on Nov. 23, and includes five totally different styles, each created by Aquazzura designer Edgardo Osorio and jewelry designers Ana Khouri, Anissa Kermiche, Sabine Getty, Noor Fares and Eugenie Niarchors of Venyx World. Each designer worked with Osorio to create a shoe that was the perfect reflection of their respective styles and aesthetic — so it's as if you're wearing a piece of their jewelry, but on your feet.
While all the styles feature a heel of some kind — after all, that's arguably what Aquazurra does best — each features a totally different silhouette, from a demure satin slingback kitten heel to a high-rise leather platform sandal. Where the designs differ, is in their embellishment. From crystal-covered block heels to more subtle sparkling accents, these shoes are a non-traditional jewelry spin-off that's bound to make you stand out, whatever your typical jewelry vibe may be.
And it would seem that fashion girls are completely behind this limited-edition collab, because three out of the five styles have already completely sold out on Net-A-Porter's site since the launch on Nov. 23. Aquazzura's $1,185 So Noor sock boot style, designed with Lebanese jewelry creator Noor Fares, went quickly — likely thanks to its on-trend silhouette rendered in buttery smooth suede and holiday-ready crystal embellishments on the four-inch heel.
The equally party-appropriate So Eugenie embellished metallic leather platform sandals, $1,075, was also grabbed up in a flash. With contrasting stripes of metallic leather and a sleek starburst adornment, Eugenie Niarchos's design was a clear pick for fashion girls in search of statement holiday shoes.
Similarly, the style created with Anissa Kermiche, a Parisian-born jewelry designer, has already reached a sold-out status. With its structural heel of stacked golden hoops with a pearl resting within each, the So Anissa leather sandal is a reincarnation of one of the designer's most popular creations. And with fans of the jewelry brand including the likes of Leandra Medine and Pandora Sykes, it makes sense that the style set snapped up this $1,115 pair quickly.
The good news is, you can still get your hands on the two remaining stylishly embellished shoes, both of which are ideal picks for event dressing — and even daily wear. The So Sabine crystal-embellished suede and PVC mules, $855, are a completely on-trend selection, thanks to the mule style and currently popular PVC strap across the top. Jewelry designer Sabine Getty elected to adorn the PVC with a wavy line of silver crystals, giving the shoes just enough dazzle to liven up an otherwise sleek and simple party ensemble.
For a ladylike take, scoop up the still-available So Ana crystal-embellished satin slingback pumps. The kitten-heeled slingback style, $855, has a sculptural crystal design at each toe, which lends a subtle amount of sparkle that keeps the shoes from looking too over-the-top. The more pared-down style, created by New York-based Ana Khouri means you can pair them with anything from a printed dress to a metallic suit set.
Considering how quickly the first few styles from this brand new collab sold out, don't hesitate to jump on the remaining shoes from the Net-A-Porter x Aquazzura fine jewelry collection. Shop the unique pieces below, and consider this season the moment when your perspective on the principles of jewelry officially shifted from your head down to your toes.