This New Take On The Pearl Necklace Is The Non-Traditional Style You've Been Searching For
FARIS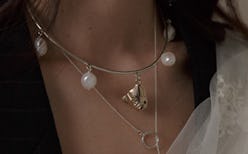 If you're still associating pearls with being "old fashioned", think again; the new pearl jewelry from FARIS is anything but. The new additions to the Seattle-based designer Faris Du Graf's collection take the traditional pearl and gives it new life with the use of metals and sculptural silhouettes. The pearl styles cover the full range of jewelry, from bracelets and delicate necklaces to rings and eye-catching earrings — which are all sure to turn heads this holiday season.
The necklaces within the collection are definitely not your grandmother's pearls and will bring a modern sophistication to all of your festive looks. Layer the 14k gold Perla Luro necklace, $425, over a fitted turtleneck or let the scattered pearls shine on your skin in a draped-neck blouse. The adjustable chain gives the necklace versatility, allowing it to be styled a multitude of ways. Wearing an open back dress? No problem. Just flip the chain to let it cascade down your back for an unexpected look.
A packed social calendar means you may find yourself fresh out of holiday outfit ideas. A statement earring is the cure all to reinvigorate an outfit or to add something special to that LBD. And, the Ovo Mobile Earring for $292 is sure to do the trick. The handmade, asymmetric pair brings together keshi pearls and Mother of Pearl to create a duo that will glisten as they swing when you move through the parties.
Another statement making style is the Folia Perla earring for $236. The sophisticated pearls floating along the bronzed metal sculpted leaves makes for a dynamic duo full of feminine edge. Pair this style with your most simple slip dresses to let them really have their moment.
For a more subtle statement, opt for the Neb Drops, $132, for a combination of short and long pearl drop earrings. This refined set can be worn one in each ear or doubled up on one lobe for a playful pairing. Though delicate, when worn with an off-the-shoulder top the pearls are sure to give off a little luster for a holiday glow.
On the hunt for a new ring to elevate your party attire? Even if you weren't, the 14k gold and pearl Chapeau Ring may have you pulling out your credit card. The design brings a modern and contemporary twist to a classic pearl ring. The bold style can hold its own, but will pair nicely with everything from colored stone cocktail rings to metallic bands.
No matter what style you decide on, these modern pearl pieces will add a special touch to all of your festive looks. Continue on to find the style that suits your holiday vibe this year and discover more on FarisFaris.com.