The Brand Priyanka Chopra & Hailey Baldwin Can't Get Enough Of Is Having A Huge Sale
CPR/NEMO/BACKGRID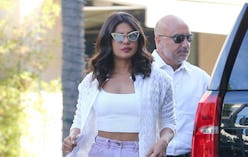 If you thought getting Priyanka Chopra, Hailey Bieber, and Dakota Johnson's style was out of your price range, think again. You can cop these trendsetters' looks without even breaking the bank, thanks to Nanushka's winter sale. So hurry up and make some space in that closet, because your wardrobe is about to get a big-time makeover.
Nanushka describes itself as a "niche contemporary women's wear brand." It combines minimalism with modernism in chic and versatile staples that make fashion girls like Hailey Bieber swoon. Just days ago, the model sported a full two-piece denim set — and the Rupa frayed jeans that were included are now 30 percent off.
Lucy Hale, Kendall Jenner, Margot Robbie, Rosie Huntington-Whiteley, Emma Roberts, and Jennifer Lawrence are all known fans of the brand as well. This past fall, you might have noticed that Kerry Washington was living in a longline, drop-shoulder wool coat — the Alamo, which she owns in several colors. Well, you'll be glad to know that it's 30 percent off, too.
This winter sale is about to save you from that style rut that inevitably kicks in halfway through the season. You'll find vegan leather tie-front tops, trend-forward puffer jackets, and your next everyday messenger bag, all for up to 50 percent off online.
Now's your time to replace those basic knits that are past their due dates or try a few new bold trends that you've been afraid to invest in (perhaps a pair of floral slip-on mules?).
Need some style inspo before filling up your cart? Look no further than Priyanka Chopra's birthday outfit: a black chiffon button-up tucked into Nanushka's white polka-dot pants, now only $230.
Head to the online store for more than 150 sale items. Ahead, The Zoe Report's favorite highlights.
Shop The Sale