The Trends To Try In 2018, According To A Celebrity Stylist
Shutterstock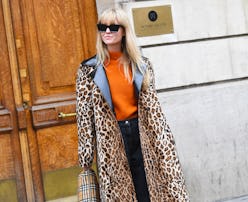 Despite a post-fashion month fixation on Spring/Summer 2019 trends, fall has just begun — so bring on the cozy sweaters, cool coats, and every style of boot. While said wardrobe staples are essential this time of year, the freshest fall outfits take cues from new-season trends; snakeskin boots, shades of yellow, and leopard-print everything are a few trends at the top of fashion girl's shopping lists far and wide. Before buying into every fall trend under the (slowly disappearing) sun, there are three trends to be most excited about, according to celebrity stylist Micaela Erlanger.
Of course, personal style is a discernible factor here: There will always be certain trends that you care about and others you'd rather just skip. Add to that the fact that some statement styles appear plenty alluring on the runway and later prove very tricky to wear IRL, and it's a real pickle.
But that's where Erlanger's expertise comes in. The style pro — who's A-List celebrity clients includes Diane Kruger, Lupita Nyong'o, and Michelle Dockery — knows how to distill high-fashion trends for real life. She even authored the book, How to Accessorize: A Perfect Finish to Every Outfit, so clearly, she has a few tricks up her sleeve.
There are three trends Erlanger isn't keen on this fall. If you're thinking about getting into the spandex trend, she suggests you opt for a skinny trouser or jean instead. And when it comes to accessories, the stylist is ready to retire tiny sunglasses and dad sneakers. "Unless you are a dad (or unless they are Louis Vuitton), this trend is tricky," says Erlanger. The fresh fall frame she's in favor of? A classic cat eye.
Ahead, find out which fall trends Erlanger is doubling down on. Plus, scroll on for outfit inspiration and stylish picks to shop for every budget.
Trend to Try: Plaid
"Cher Horowitz was onto something," says Erlanger. "I love plaid for fall and am excited that it is making a comeback on the runways this season. I love going for it, mixing plaids and prints."
To try it IRL, go bold like Loulou De Saison and pair a snakeskin print with punchy plaid. The key is sticking to a complementary color palette — here, she balances bright tones with a muted motif.
Another idea: take your summer florals into fall by layering a plaid blazer over top. This showgoer makes the case for cowboy boots and a logo bag as finishing touches.
For full-on plaid, go graphic like Charlotte Groeneveld and style a windowpane check coat over a lace-trimmed dress. Her tough accessories and black and white palette take the sweetness out of the equation.
Trend to Try: Leopard
"A hint of leopard will give your look a little attitude, I love the subtle '90s influence we are seeing in the collections," Erlanger says. "Whether it's a leopard shoe, or a scarf, a little pop is all you need."
Jeanette Friis Madsen demonstrates the allure of a classic leopard-print coat. Embrace color by styling yours with an orange knit and jeans. Bonus points for a contrasting plaid clutch.
For a spot of leopard print, take a cue from Susan Stjernberger and opt for a trimmed trench. You can DIY the look by cinching a leopard-print belt over a slick patent topper.
If a leopard accessory is your speed, a handbag is a versatile pick. Go ultra-bold like Eleonora Carisi and style one with a vibrant suit. Or, pair it back to a T-shirt and jeans.
Trend to Try: Statement Ruffles
Erlanger notes, "A new take on the romantic trend, ruffles take on a bold look this season. Pair with simple jewelry and let your ruffles do the talking."
Alyssa Coscarelli's asymmetric dress is equal parts feminine and edgy. If you're not typically a fan of frills, an off-kilter take might win you over.
Temper a ruffled paisley blouse like Erika Boldrin with dark-wash denim and classic jewelry. A tan bag and heels are spot on for daytime.
For a full-on feminine moment, go the Victorian route á la Hedvig Opshaug. Stark white accessories move the look in a forward direction.