Searches For This Unexpected Holiday Nail Polish Color Are Up 3,044 Percent On Pinterest
ImaxTree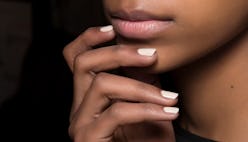 As you're checking off your to-do list in the final moments ahead of the holidays, are you heading into the the nail salon for a festive polish change? It's an essential part of the getting-ready process before the time is finally here to attend family parties, unwrap presents, and cozy up by the fire (with a hot cocoa in your freshly-manicured hand). And as you make that all-important lacquer selection, consider picking one of these most-shopped holiday nail colors on Pinterest — heads up, they're not what you'd expect.
With everyone else in your local nail spot likely polishing their digits in decidedly traditional holiday nail shades (plenty of telltale reds and celebratory metallics, no doubt), it's worth striking out on your own with a hue most others haven't thought of. And the place to pick up on such offbeat shades? Pinterest, of course, since the social platform provides no shortage of visual inspo on what's gaining popularity.
And this year, the nail colors that have come up more than any others during the holidays (more specifically, the searches between Nov. 2018 and Nov. 2019) are a far cry from the shades you'll spot on all your friends and family. Keep scrolling for ahead-of-the-crowd manicures to try during your pre-holiday pampering.
Searches for nails in natural, nutty shades are up a whopping 3,044 percent on Pinterest, proving a subtle update to a classic is always a good idea. To get the look, opt for a creme or matte finish nail lacquer in muted earthy tan, taupe, cream, and brown hues — think the shade of slivered almonds or a pale hazelnut shade. It's a good winter option for those who never stray too far from their pinky-nude hues or prefer a bare nail, but want to get a little more glam.
They're a classic for a reason; nude nails go with everything, and they're pretty easy to maintain between salon visits. But Pinterest searches for the year-round staple shade are up recently, to the tune of 2,511 percent more than usual. Nail the barely-there naked nail vibe with a shade that's not too far off your natural nail color, with undertones that match your skin tone. And for a festive take, consider selecting a polish with a hint of shimmer.
In an unexpected update on classic bright white nails, many beauty mavens are asking for a milky white manicure — which means a translucent white coating on nails for a creamy, but not opaque effect. Pinterest users have made the search phrase spike 1,387 percent, proof enough that this nail trend is one worth trying. Go for a creamy sheer nail polish in a snowy white shade to get the effect.
Bright berry hues actually make sense for the holiday season if you think about it — there's cranberry sauce on the table, and fresh berries in your baked goods, after all. Go along with the fruity vibe with a juicy berry nail color in shades of purple or red that still feel celebratory; pick one with sparkles for extra pizazz.
Feeling moody this holiday season (honestly, who isn't at this point)? Reflect the vibe in your manicure selection with a sultry pure black nail polish. Pinterest shows that the ultra dark nail shade has been searched more frequently on site, with a 500 percent increase in queries. So, why not stick to the tried-and-true classic whilst everyone else is rocking red manicures. Keep your nails short so the look stays polished.
Can't imagine going fully to the dark side, but want something that's a bit unexpected? Try a dark purple nail color, which users have been Pinning at a rate of 458 percent more than last year. It's still got a moody vibe that'll contrast against more cheerful shades seen everywhere, but feels a bit more rich than an all-out black
If you're missing the heat of summer, you'll be glad to know that it's totally trending to rock a hot pink manicure even as winter officially kicks off. Searches for the scorching shade are up 401 percent — so why not indulge in a vacation for your nails with the shade. Why wait 'til summer rolls back around, right?
If you simply can't resist the urge to break out a metallic manicure during the holiday season but don't want to completely fit in, your answer lies in this color: rose gold. It's the rich, pinky-champagne alternative to the silvers and yellow gold hues you'll spot all over — and it'll go with practically everything (even your NYE outfit). Pinterest searches for the shade are up 401 percent, so you know the shade is sure to get compliments.