The 10 Minimalist Pieces I Need For Fall Are Living In Totême's New Arrivals
Totême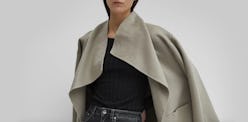 Nothing gets me quite as excited to get dressed as the arrival of fall weather — what can I say, I love to layer. But, nothing gets me quite as overwhelmed as the rush of new product that comes with every new season. Yes, I want to wear all the cozy fabrics and rich, bold colors, but as someone who generally sticks to a strict rotation of basics in neutral hues, I get easily overwhelmed when trying to wade through literally thousands of new arrivals. My goal is to curate a minimalist capsule wardrobe for fall that feels true to my style, and honestly I've struggled with the task. That is, until Totême popped up on my radar.
It's not news to me that the Stockholm-based brand has mastered the art of simple-but-unique basics. I've been following Totême since its inception in 2014 when blogger Elin Kling co-founded it with her husband Karl Lindman, and not once has the label created a piece I haven't fallen head-over-heels in love with. It's just that from season to season it somehow keeps getting better — and when I recently visited the brand's new arrivals page, something about how perfectly each piece fit together struck a chord with me.
Totême has always understood the importance of having a wardrobe full of pieces you can easily mix and match, but this year, it went above and beyond. The collection's more casual pieces pair as perfectly together as they do with its dressier items, and everything is ripe for piling on and layering together when temperatures really start to drop. And though it's all undeniably minimalist, the unexpected details and cool silhouettes scattered throughout ensure that even if you do end up wearing black on black on black, it's still far from boring.
Ahead, the only 10 pieces I need to create the minimalist capsule wardrobe of my dreams for fall.
Outerwear
I'm a fan of everything Totême creates, but its outerwear is arguably what the brand does best. IMHO, the best approach would be to opt for a few different styles — a leather jacket to up the cool factor of any outfit, a long coat to stay cozy, and a blazer to add a professional touch for the office.
Tops
Layering is the best part of fall, and Totême's shirts make that easy. I personally love a few different styles that can be worn on their own but also be styled together in fresh ways, which makes it much simpler to get dressed when the weather is in flux.
Bottoms
Totême nails a couple of trends with its bottoms this season (i.e. leather and wide-leg denim) while bringing in a few styles of its own (read: this perfect black skirt). Thanks to these chic styles, you don't need a lot of pieces in your wardrobe to complete it — these three options will ensure you have something for every occasion.