This 10-Piece Fall Capsule Wardrobe Will Have You Dressed & Out The Door In Minutes
REX/Shutterstock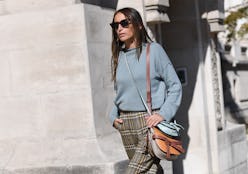 Regardless of how you feel about the whole pumpkin spice phenomenon, fall is a time to embrace all things cozy. The sun begins to set before you've left the office, and the days when you could leave home without a jacket on are whittling away. But, swapping over to a warmer wardrobe doesn't mean living the next three months in sweatpants (though hey, if you can pull that off, more power to you). Instead, developing a well-curated fall capsule wardrobe is the key to refreshing your look this season. Because in fact, for many fashion-obsessed women, the next 90 days may be the best time of the year — a time when they can finally layer trends with abandon and embrace the layered aesthetic that circles back around every time the fall equinox hits.
To streamline your seasonal shopping needs and to help make getting dressed especially simple, you'll find a succinct list of 10 key pieces you should be wearing this season. These essentials touch on current trends (western boots! neon!) but are still streamlined enough to mix and match together — or to cherry-pick and coordinate with what you already own. While you may struggle to figure out what you fall coffee of choice may be (is it ever too cold to order it iced?), at least you can know you have your wardrobe on lock through the end of the year.
The Western Boot
Whether you want to embrace a full-on-rodeo-ready cowboy boot, or you're looking for a more streamlined take on the trend, this season's footwear of choice is a boot with a western bend. It's up to you whether you wear your favorite style with chaps or your favorite jeans.
The Beige Blazer
A well-tailored blazer is a fall essential, and while last year, plaids reigned supreme, a sleek neutral is the item of choice for 2018. Layer it with a colorful blouse or embrace a monochromatic look from head to toe.
The Leopard Skirt
This fall, there's no wrong way to wear animal print, but judging by the fact that brands like Reformation and Realisation Par have barely been able to keep their leopard print skirts in stock, this is the hero piece of the season.
The Puff-Sleeve Blouse
Ready to move on from your classic button-down? Prairie-chic blouses with puffed sleeves have become a favorite among trendsetters. Consider the style a standalone piece: It can anchor an outfit all on its own, no accessories needed.
The Structured Shoulder Bag
The sharp tailoring that comes with many fall pieces (trousers, blazers, structured jackets) pairs well with a bag that has the same clean lines. A structured shoulder bag will hold all of your daily necessities without coming off as overly stuffy or corporate.
The High-Waist Trouser
Ready for a shocker? This season, trousers don't have to be relegated just to the office. Paired with a tee or crop-top, high-waist trousers will soon become your go-to brunch uniform.
Polished Pumps
A great pair of heels should be two things: sleek and comfortable. This season, a slingback or elasticized back and a pointed toe make for the perfect pairing.
The Neon Turtleneck
While neon may not be a classic hue for winter months, day-glo isn't going away with the end of summer. A neon turtleneck makes for a perfect layering piece under your more subdued pieces.
The Fall Floral Maxi Dress
Don't write off florals completely for fall. Instead, look for darker, more moody prints, long sleeves and midi hemlines. Once things get ultra chilly, try styling your favorite dress with knee-high bucket boots and a warm sweater.
The Slouchy Cardigan
For that weird in-between weather — when you're still not fully committed to your warmest coats, but leaving the house in just a sweater seems like a poor choice — consider a relaxed cardigan. It'll keep you plenty cozy (especially if it's wool or cashmere), and is easy to dress up or down.