Milk Makeup Released Its First Studio Brush Set With Sephora Collection & It's The Upgrade Your Makeup Bag Needs
Milk Makeup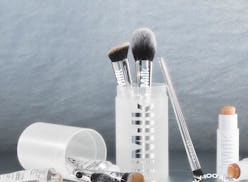 They say an artist is only as good as his or her tools. And as far as makeup artistry goes, there are more than a few good options to choose from between brushes, sponges, blenders, and your very own fingers, too. Now the Milk Makeup x Sephora Collection Studio Brush Set presents yet another pick to consider — but if you want to get your hands on this complete complexion-perfecting set you'll have to act fast because it's very limited edition (and pretty affordable, to boot).
When Milk Makeup posted a super close-up of something fresh to come on its Instagram on Oct. 28, eager and observant fans were quick to guess what the new drop would be: makeup brushes. It turns out the commenters were spot on, and they weren't kept waiting for long to find out. The following day, the cult-loved vegan beauty brand launched its Studio Brush Set in collaboration with Sephora Collection, but in extremely limited quantities that are bound to sell quickly.
Wondering if you should take the plunge to be amongst those who snag the $58 five-brush kit? Here are the details you need to know to help you decide.
The Milk Makeup x Sephora Collection brush set, now available on Sephora's and the popular beauty brand's websites, was inspired by backstage beauty and created with versatility in mind (much like the rest of Milk Makeup's range). The five 100-percent vegan and antibacterial brushes include a cream sticks brush, highlighter powder brush, setting powder brush, foundation brush, and a concealer brush — and they come conveniently packaged in a travel canister so you can take them on the go during holiday travels and beyond. Basically, they're all you'd need to craft a radiant, polished complexion, no matter the makeup products you're using.
The foundation and concealer brushes are designed with flat tops and dense fibers to help you buff liquid and cream formulas into skin for an airbrush-like appearance. Try them with Milk Makeup's Flex Foundation and Flex Concealer, or your own go-to.
Use the angled cream sticks brush with Milk Makeup's selection of multi-sticks and cream formulas to create a diffused, ultra-blended effect, then follow up with the highlighter powder brush to target the high points of your face with your favorite luminizer. Lock your look in place with the fluffy setting powder brush (or, use the soft tool to sweep bronzer across your face).
According to Milk Makeup's website just 100 of these brush sets are available, so upgrade your toolkit with the sleek set while you still can.