Why Mario Dedivanovic Calls His New KKW Line The 'Desert Island' Collection
KKW Beauty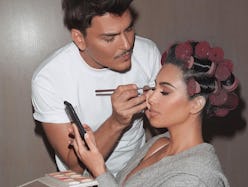 As long as there have been artists, there have been muses: Kiki de Montparnasse (yes, of the luxury lingerie) was muse to Man Ray in the 1920s; Edie Sedgwick inspired Andy Warhol (and everyone else, really) in the 1960s. The defining muse-artist relationship of this decade? One could argue that honor goes to Kim Kardashian West and Mario Dedivanovic, her longtime makeup artist. How fitting, then, that the duo's second collaboration, launching Nov. 22, is titled the KKW x Mario Artist & Muse Collection.
"I wanted this collection to be essentials, I kept referring it to as a 'desert island' collection," Dedivanovic tells The Zoe Report. The launch features almost everything you need to get the classic Kim Kardashian West look, save for Kardashian West herself: There's a 10-pan eyeshadow palette of statement-making neutrals; a nude lipstick, liner, and lip gloss; and a universally-flattering blush. All are inspired by products and shades that have held steady throughout Kardashian West and Dedivanovic's 11-year relationship — because while the style icon may be known for switching up her vibe, "there are certain things that always stay," the makeup artist says. "Some things I do on the eyes, little things I do on the lips, little techniques I do on Kim that take her from 'Kim with no makeup on' to 'glam Kim.' I wanted to make sure this collection was representative of that."
The most enduring KKW x Mario trick? "The smoky brown on the lower lash that we always do — we both feel it completes the look," Dedivanovic says. Like a true artist, he could (and did) wax poetic about the ultimate smoky brown shade for minutes on end. "The shade Glam King is a perfect, medium-tone, warm brown — if I had to choose one [favorite] color, it would be that one," he states of the second-to-last pan in the Artist & Muse Eyeshadow Palette. "I use it for her eyeliner and also on the bottom lash line, and that's the color that I need. It's nice and warm." That warmth is important, since Dedivanovic says shadows on the lower lash line have the tendency to go "gray." Glam King, on the other hand, "has the perfect amount of red undertone and yellow undertone." And like Kardashian West, the color has many talents: "Technically, you could even use it as a beautiful contour or bronzer shade."
Despite the abundance of neutral, classic tones in the collection, Dedivanovic says Kardashian West went above and beyond to make sure repeat customers are getting something brand new. The collaboration process involved Dedivanovic brainstorming shades "from an artist's perspective," then presenting them to the entrepreneur for feedback. "She knows her product so well, and she knew right away if one thing was too identical to another shade in the [line]," the MUA explains. "She was so vocal in that sense and wanted to make sure that her customer isn't getting something they have already — it had to be different."
As evidenced by the fact that much of my conversation with Dedivanovic centered around a single brown shadow, the Artist & Muse Collection doesn't feature anything flashy, of-the-moment, or over-the-top — and that's kind of the point. "For this one, I wasn't thinking about trends because that's the true essence of me as a makeup artist. I don't care about trends so much," Dedivanovic says. "I wanted this to be so authentic to Kim."
Of course, even if he doesn't think of himself as a tastemaker, he is; and anything "authentic to Kim" is destined to be big. "When you work with Kim, sometimes you do things and you don't even know, and they become a trend the day after," the artist admits. So what's the next look to look out for? "I would say the past couple of weeks I've been going more natural on her and I've been loving it," Dedivanovic says. Think: Less concealer, less contour — but always a smoky brown shadow on the lower lash line. Just don't call it a trend.
Ahead, discover the KKW x Mario Artist & Muse Collection, available Nov. 22.
Shop KKW X MARIO Artist & Muse Collection