The Kardashian Sisters Are Dropping A KKW Fragrance Collab — & It's Going To Sell Out Fast
KKW Fragrance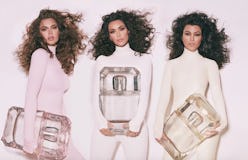 The Kardashian sisters make themselves pretty easy to emulate. You can learn Kourtney Kardashian's lifestyle tips from Poosh, wear Good American jeans from Khloé Kardashian's clothing line, and kontour (sorry) like Kim Kardashian thanks to KKW Beauty. And now, much to the delight of their fans, you can smell like all of three of them, too. On Nov. 8 at 12 p.m. PST, KKW Fragrance officially launches its new Diamonds collection, featuring three distinct new fragrances by the three sisters themselves.
It's a collection that's predictably luxe. The collection itself, however, wasn't so predictable. As Kim explained in an Instagram post announcing the collaboration, it's actually the first one she's done with the other Kardashian sisters for KKW Fragrance. "I'm so excited to announce the new @kkwfragrance Diamonds Collection by Kourtney x Kim x Khloé!!!" she wrote in the post on Oct. 29. "This collection is really special because it's the first fragrance collaboration I've done with Kourtney and Khloe for my line."
Kim also explained in the post that each of the $40 fragrances capture the sisters individually — which is made pretty clear by how different each one is. As its product description explains, Kourtney's, which is housed in the yellow bottle, is "drenched in radiance" with notes of magnolia, patchouli, and whipped vanilla. Alternatively, Khloé's is a sweet pink shade and mixes notes of bergamot, sparkling violet accord, and lilac blossoms for a fresher scent.
Rounding out the collection is Kim's clear diamond bottle — which was chosen for her because "Kim is just a flawless diamond," as Kourtney explained in an interview with Allure about the new collection. The scent inside is tropical and floral, with a combination of notes including sugar-coated ginger, ylang ylang, and white musk.
It's a collection that's been much anticipated — and one that's basically guaranteed to sell out. The sisters took to Instagram to announce the new collection on Oct. 29 and have been heavily promoting the launch since. And fans have subsequently been freaking out — not only because it was an unexpected collaboration, but also because Khloé debuted chocolate-brown hair in the campaign, a major change from her longtime blonde shade. (It seems the Kardashian sisters are trying to tell us that this is the color of the season, considering Kim has also tried a similar color not once, but twice already this year.)
All in all, it's a collection with the kind of buzz only the Kardashians themselves could drum up — meaning you'll have to shop fast to get your hands on it. Keep scrolling for all three scents, and head to the KKW Fragrance site to shop them when they launch on Nov. 8 at 12 p.m. PST.