Kiki De Montparnasse's New Collab Is As Chic As It Is Risqué (There's Pasta & Red Lipstick Involved)
COURTESY OF FARFETCH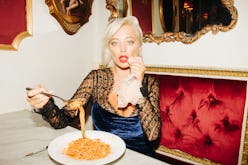 Pasta, red wine, and a rouge lipstick — all things that, until now, were more likely to be found on your dinner table than in your underwear drawer. The Kiki de Montparnasse x Caroline Vreeland Collection not only features designs detailed with the aforementioned items but offers a range of luxe undergarments that find the balance of being both chic and a little risqué.
Known for delivering elevated lingerie, luxury brand Kiki de Montparnasse has collaborated with the singer, actress, and model to create a limited edition capsule of undergarments that are exclusively available for purchase on Farfetch as of Oct. 30. The great granddaughter of legendary fashion editor Diana Vreeland, Caroline Vreeland has made a name for herself among the fashion crowd and has an undeniable affinity for a glamorous yet sultry piece of lingerie.
"The things we wear under our clothes are not only for a lover. They are for us, a sweet secret, an added luxury," said Vreeland in a press release. "And to think of you, my darlings, wearing the five things that make me, me, underneath it all, gives me a special thrill."
The collection is composed of several bloomers, $75 each, and thongs, $55 each, that are all made from crinkled silk chiffon. Offered in a variety of colorways, including white, bordeaux, nude, black, and red, both styles feature a design that represents something meaningful to Vreeland. In addition to the red wine, pasta, and red lipstick mentioned previously, there's also a cleavage motif as well as a microphone design embroidered on thong and bloomer styles.
Vreeland's trademark hallmarks bring a unique twist to the sheer thong silhouettes, while the silk bloomer's lace detailing gives them a vintage Hollywood feel. But, no matter what style you go with, your top drawer will undoubtably become more sophisticated and a little sexier, too.
Continue on to see a selection of styles from the exclusive collection, and head over to Farfetch to peruse even more pieces that'll uplift your top drawer this season.