Saint Laurent Has A New Collab & It's Going To Convince You To Buy Into The Flip-Flop Trend Immediately
Shutterstock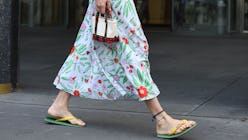 This summer, something sort of strange happened. What first started out as a quiet whisper amongst street-style mavens grew to an all-out, screaming trend that's impossible to ignore. Flip flops are without a doubt the shoe style of the season — and not just for trips to the beach or the pool. The formerly laid-back silhouette has reached high-fashion status, earning it a place on city sidewalks, catwalks, and everywhere in between. And if you still don't believe it, the new Havaianas x Saint Laurent collaboration is proof.
Even a total fashion novice knows that the name Saint Laurent signals a certain kind of luxury. So, the last thing you'd expect to see in the brand's lineup of offerings is a pair of super-casual flip-flops. But things in the fashion world have seriously changed; after all, you can even spot a pair of the low-key shoes outside couture week fashion shows. And though Saint Laurent has previously maintained a tightly-curated image of minimalist edgy-yet-elevated styles, its new Saint Laurent Rive Droite retail concept presents a new turn.
Anthony Vaccarello's Saint Laurent Rive Droite is a new creative venture for the fashion house that presents a much more playful, not to mention more accessible, shopping experience. With two retail locations in Paris and Los Angeles plus a separate online footprint, Saint Laurent Rive Droite serves up a more experimental product line of women's and men's fashion plus limited-edition collectibles that range from home decor and books to accessories like ear buds, phone cases, and lighters. That's where the Havaianas collab comes in.
The limited-edition flip-flops, $65 and now available for pre-order exclusively on the Saint Laurent Rive Droite site, prove that the easy-breezy shoe trend has officially permeated the highest level of the fashion industry. And though the rubber-soled sandals are certainly a departure from Saint Laurent's typical wares, they don't seem out of place.
Havaianas went with a zebra print pattern for the collab — a fitting selection for the fashion house that tends to stick to sleek, minimalist color palettes and monochrome designs. The rubber upper of the shoe is likewise in all black (despite Havaianas' usual penchant for a pop of contrasting color for its logo), giving the shoe an overall streamlined, stylish, and somehow high-fashion vibe. Basically, they're the chic take on the footwear for anyone who hasn't yet been won over. Style them with a sharply-tailored blazer, tank top and relaxed trousers for a polished effect, or pair them with your favorite sundress for a fun, summery vibe.
Snag the special-edition shoes from Havaianas and Saint Laurent below.