10 Brilliant Hair Products That Always Keep My Curly Hair Smooth And Shiny
Imaxtree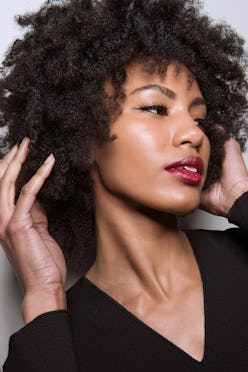 If I had a dollar for every time someone said to me, "I would die to have your curly hair," I could upgrade my tiny New York City apartment to a big Park Avenue brownstone. I've had curly hair for my entire life, and for some reason, some people equate curls with hair styling ease — a built-in look, if you will. I'll admit, I like the versatile options that I have when it comes to styling my hair straight. But along with the benefits, comes the frizz, which makes it challenging to style my hair exactly as planned — at least, without a fail-proof lineup of frizzy hair products for curly hair that can fight any flyaway, even as the weather gets more humid.
Learning how to smooth my curls is an ongoing journey of testing products and developing a hair routine. Even though the trial and error doesn't always ensure a good hair day, I've found that maintaining frizz starts from the time you cleanse your hair. Products with argan oil, shea butter, and other natural ingredients happen to work best for me... and shampoos with "good" oils helps my hair remain at its healthiest. A good smoothing conditioner literally seals the deal, keeping post-wash fuzziness under control.
After finding the best ingredients for my hair, I focused on styling products. I needed to find a knockout combination when I wanted to leave my hair curly, and for when I had a blowout. Mixing products became my solution — a good leave-in helps detangle my wet hair and adds shine, while a nice finishing balm or a serum keeps things smooth.
My takeaway is that you have to play with products and be prepared for when your hair changes and needs a new routine. Don't let frizz intimidate you. Instead, you have to work with it, rather than against it. Ahead, check out the products that helped me confront it once and for all.