These Are Fall's Most Important Trends, According To Women Over 50
ANDREW MORALES/WWD/Shutterstock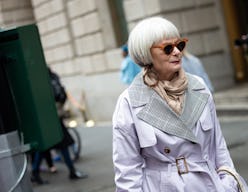 Style may be ageless, but the wisdom it takes to discerningly navigate a new season of trends definitely comes with time. In your teens and 20s, every fad seems like the next big street style look. By the time you're in your 30s and 40s, ephemeral trends become less appealing and you begin to invest in pieces that are both fashion-forward and timeless (and can weather back-to-back seasons). But the 50- and 60-year-old set has particular lucidity when it comes to cutting through the sartorial noise. Which means this fall, the fashion trends women over 50 have on their radar are worth noting for yourself.
According to a few of Instagram's coolest 50-plus women, the key to embracing a season's top trends is by picking and choosing what works with your personal style. This may mean mixing and matching high-end streetwear with practical basics or timeless pieces with a splash of color. Below you'll find an edited approach to trend dressing this season, all as directed by these inspired women. As you start to strategize your own fall shopping, look to the seasoned influencers below, because no matter your age you'll find a handful of smart options to add to your own wardrobe.
Arlinda McIntosh
Arlinda McIntosh, founder of the no-waste skirt brand Sofistafunk, is on the lookout for practical footwear for the months ahead. "What I'm looking for this fall are more flats," she explains. "Flat footwear has taken over my floorspace, from strappy [sandals] and Birkenstocks to sneakers."
McIntosh's signature look is all about color, so despite fall's typically toned-down color palette, she'll be embracing bold hues in the months ahead, too. "I'm also looking for brightly-colored, patterned blazers. Also, large crystalized earrings in jeweled tones, which are so hard to find." With the continued popularity of bright hues like pistachio green and rich mango this summer, try styling them with rich beige staples to refresh them for the upcoming season.
Lyn Slater
"All summer long I've been wearing long pleated skirts and dresses with sneakers and will continue that into the fall. But, I'll change to heavier fabrics and textures like wool, tweed, and satin," says Lyn Slater, a Fordham University professor and founder of the blog Accidental Icon.
Slater's fall shopping plan centers around sustainability — buying less, and focusing on timeless pieces. "I am going for comfort. Oversized, menswear-inspired blazers," Slater says, adding that she's livening up simple silhouettes with color. "I got a fabulous olive and orange one from Paul Smith. I am loving the earth tones, especially rust, and will continue my newfound love affair with color."
Tami Reed
An Atlanta native and the producer of her eponymous talk show, "Talking with Tami," Tami Reed adds a modern twist to bold southern style. Reed's Instagram is filled with classic prints like geometric patterns and florals in electric colors. "Right now I'm loving plaids and tweeds," Reed notes. "That is what's hitting the stores now. I would style plaids and tweed with great accessories like hats and a banging heel boot."
But, just because fall is approaching doesn't mean Reed is forgoing warm-weather staples entirely. Instead, she's finding ways to adapt her summer go-tos into the new season. "I love the sweater dresses coming out soon for fall. I'm also loving jumpers and wide leg pants," she adds.
Yasmin Furmie
"I may have to get over my fear of showing my feet because I'm definitely looking to get myself a pair of strappy sandals," says South African-based influencer Jasmin Furmie, co-founder of shirting brand SiSi. "I love the look with a pair of jeans and a white shirt or a cool pantsuit."
Furmie prefers shopping locally since South Africa has tons of artisanal shops. "A local designer Thebe Magugu has some sharply tailored suits and very quirky statement coats that can be worn on days that aren't too cold," she notes. "I personally love their pink ostrich-print oversized trench coat. It's a true sight to behold. That in itself will be something I'd find difficult to let go of when warmer weather sets in."
Grece Ghanem
This fall, Montreal-based influencer Grece Ghanem plans to incorporate '70s influences throughout her wardrobe, but with a modern twist. "I'm buying flared denim in blue or white [to be] worn with a tank top and platforms or chunky sandals," she explains. Adding that square-toe shoes, oversized sunglasses, and a big tote are all accessories she'll be layering on too. "Oversized sunnies are one of my signature looks," she explains. To embrace a retro aesthetic too, Ghanem suggests tailored pieces: "a chic revival of the '70s classics with a pussy bow blouse paired with a pleated skirt."
Renata Jazdzyk
Fashion influencer Renata Jazdzy relies on footwear to create trend-forward ensembles from season to season. "I believe any outfit can be transformed from something simple and basic to something special and unique thanks to shoes and right accessories," she explains. "This season, I will be wearing square-toe shoes, from sandals and mules to sling backs." Jazdzyk looks to brands like Bottega Veneta, Balenciaga, and A.W.A.K.E Mode for chic options. "You can wear them with anything," she says.
Jazdzyk is also embracing the all over leather that appeared on the Fall/Winter 2019 runways. "I love leather, and this season I'm planning to wear it in any shape, form, and color," she notes. "I'm currently all about leather Bermuda shorts, as they pretty much go with everything; from a basic white tee to elegant blazers. Once it gets a bit colder, I will go back to high waisted leather trousers from Nanushka and leather dresses."
Alyson Walsh
"For me, a kaftan dress is a grown-up staple. Think, wafting around holiday markets or wearing [it] to work during a heatwave," says Alyson Walsh, founder of the blog That's Not My Age and author of Know Your Style. "It's a master multitasker. Just add a pair of door knocker earrings and flat leather sandals for an easy, elegant everyday outfit."
Walsh is looking to bigger silhouettes for a relaxed aesthetic this fall, and her go-to option is an oversized shirt. "It guarantees you look nonchalant and cool. Go for a borrowed-from-the-boys version," she notes. "Worn with faded denim jeans, jersey harem pants, or a Carolina Herrera statement skirt, the shirt is an easy way to add a little decorum to your outfit."
As a self-proclaimed denim lover, her favorite style for fall is a boyfriend jean. "I love the MiH Phoebe boyfriend style, Levi's 501s, Frame's Le High Straight, and a pair of old white Gap jeans that I DIY-cropped and left to fray," the former fashion editor explains. "I like to style my cropped kick-flare jeans with suede ankle boots or platform sandals. And for straight-leg styles, I cuff the hem to pair them with sneakers or loafers.