I'm Not Emotionally Ready For Sweater Weather, But I'm Buying These Knits Anyways
@vbiancav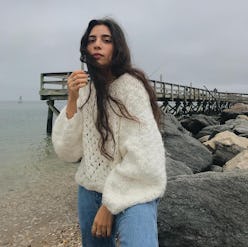 I blame the fact that I spent the first 22 years of my life living in California for the panic that consumes me this time of year. Sure, fall in New York City pretty, but it's also a precursor to the freezing months to come (goodbye beach days). I have plenty of friends who anticipate the first day of "sweater weather," but no matter how much I love a cozy knit (and I love a cozy knit), I can't help but feel an overwhelming sense of dread. But since retail therapy can be an occasional cure-all, I figure that shopping the best fall sweaters might actually abet my existential crisis, because if that can't cure cold-weather blues well, I'm out of ideas.
Here's the great thing about mining the current sweater selection of my favorite retailers: This fall, the knitwear options are refreshingly playful — and playfully bright: There's no shortage of brazen neon hues and punchy prints. But, before you write these sweaters off as overly-gimmicky, I'd like to make the case for a knit that steps outside of the comfort zone.
Picking out a statement-making sweater means that you can throw on straight-cut jeans and a simple pair of boots and your outfit still looks plenty fashion-forward. Below, find the sweaters that'll offer a small bright spot in the chilly months ahead. From the warmth of your bed, desk, or even café chair, get a jump start on the season and shop your favorite, starting at just $30.