This Surprising Trend Will Make Your Fall Wardrobe 10x More Interesting
Cornel Cristian Petrus/Shutterstock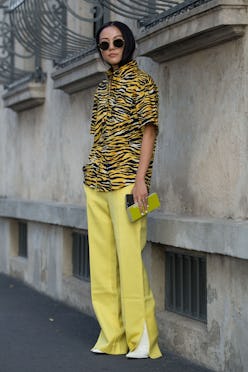 Press pause on all your neutrals because this fall, it's all about infusing your wardrobe with yellow — lemon, mustard, or sunflower. While historically, the cooler months call for a more subdued wardrobe, this year, summer's boldest color (fondly dubbed Gen-Z yellow) is carrying over even as the temperatures drop. The key to navigating this tricky color is figuring out some key yellow outfit ideas that will brighten up your seasonal style without leaving you feeling like a human highlighter. The bonus: In person, you'll stand out from the crowd, but you'll also pop when posing for photos on Instagram.
Sure, in theory, yellow may seem like a tricky color to add to your wardrobe (especially when it comes to dressing professionally), but the truth of the the matter is that the jarring nature of neon yellow or a buttery tone can actually become a proverbial breath of fresh air in an often-stuffy October wardrobe. Below, you'll find five ways to incorporate this sunny hue into your wardrobe, from subtle to, well, anything but. And along with a breakdown of exactly how to make yellow work for fall, we found some key products to help you achieve each of these five styling ideas on your own. So, before you let the receding daylight get you down, just remember, you've got a sunny pickup all your own (and it's sitting in your closet).
Layer A Yellow Top Under A Suit
A two-piece suit is a classic ensemble for fall, but to brighten things up, try adding a pop of color with a yellow tee or blouse beneath. Whether you keep to a neutral pinstripe or plaid suit, or you go for something more colorful, a hint of yellow underneath is a subtle (read: office appropriate) way to ramp up your color palette.
Shop Tailored Staples With a Twist
To help transition bright neon from summer into fall, try sticking to crisp, tailored pieces like straight-leg trousers or a fitted blazer. By reimagining a traditional cool-weather silhouette in a bold new way, you'll stand out from the crowd. If you dare to try the trend head-to-toe, consider mixing and matching your hues of choice.
Try Color-Clashing
While it might seem counterintuitive, one way to easily integrate a vibrant yellow into your everyday wardrobe is by pairing it with contrasting hues: say, a bright blue or green. By playing colors off of one another, it helps create a sense of balance and adds instant polish.
Pick a Bold Accessory
If head to toe yellow feels like too much, consider a single bold accessory as part of an otherwise neutral look. White, black, and camel are easy options for styling with a lemony pop of yellow. Try layering a belt over your favorite fall coat, or finish an ensemble with a simple pop of color: a yellow bag or pair of heels.
Mix Your Seasonal Trends
Snakeskin is everywhere this fall, so try pairing two trends together and opt for a sleek python in a buttery hue. The graphic print may initially seem overwhelming pared with so much color, but the business actually helps to balance out the richness of the hue.