The 7 Most Important Trends From NYFW Fall/Winter 2019
Courtesy Ralph Lauren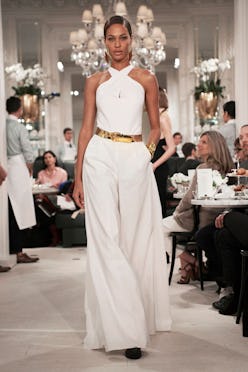 New York Fashion Week is the first major stop on the Fashion Month circuit — followed closely by London, Milan, and finally Paris. This means the city is a sartorial harbinger, forecasting first what you'll be wearing in the months ahead. For Fall/Winter 2019, New York Fashion Week's runway trends are a look right now at what you can expect to be shopping (and wearing) six months down the line.
Part of what sets New York apart on the fashion calendar is the seeming dichotomy that emerges from the ruwnays in Manhattan. First, there's the grittiness of the city's downtown scene, championed by emerging designers like Eckhaus Latta, Vaquera, and Maryam Nassir Zadeh (the first of which shows in Bushwick, no less). On the other end of the spectrum, uptown behemoths like Ralph Lauren, and Oscar de le Renta (along with a new generation of younger counterparts), stick to elegant, elevated, and classic season after season.
Below, you'll see how that contrast played out on the runways this season. Streetwear, which has reigned the past few years gave way to sleek leather and edgy Matrix-inspired details. But, there was also a certain dreaminess that drifted across many runways, a movement towards beautiful dresses, bright colors, and details like sequins, feathers, and frills. No matter if you approach getting dressed from a strictly practical approach, or you're looking for a sense of escapism, New York Fashion Week is here to provide. See the seven top trends from the runways below.
Going For Baroque
Ruffled collars, dreamy dresses, corseting and high-volume sleeves were all crucial elements of the elegant backward-looking baroque trend. If you've seen The Favourite or you're a Pride and Prejudice die-hard, the super-retro looks will seem familiar. Set to the tune of Beethoven, Bach, and Vivaldi (sometimes with an electronic remix) brands like Brock, Dion Lee, Khaite, and Eckhaus Latta all embraced the old.
Matrix Reloaded
A little bit '90s grunge, and a little bit dark and futuristic, runways were dotted with looks that brought to mind the alternate reality of The Matrix. Whether it's a commentary on the current cultural state, or simply a desire to bring more leather into everyone's lives, brands are opting for looks that are streamlined a little bit cyberpunk.
Remastered And Reconstructed
Sleek and sophisticated separates in the vein of Pheobe Philo era Céline have been a continuing theme for designers across the board, but this Fall comes with a slight remix. Brands including Proenza Schouler and 3.1 Phillip Lim are reimagine and reconstructing classic pieces in fresh ways. Mixing materials and reimagining classic cuts results in sleek pieces that feel anything but preppy.
Black And White All Over
The typical plaids and tartans that appear come September aren't going anywhere, but for 2019 designers also embraced a different take on seasonal prints: graphic black and white designs. Marc Jacobs favorite florals while Area debuted it's own logo design, but the theme throughout all was to keep things color free.
High-Octane Hues
Fall is typically the season for muted jewel-tones, but not for 2019. Brands are breaking out the full spectrum, with looks on the runway in everything from an Elle Woods-worthy pink to tangerine and bright aqua. Whether your goal it to mix and match, or try to go for monochromatic, you'll have no shortage of rainbow inspiration.
Cinched Suiting
This season, the trend of oversized and slacked suiting continued, but as a fresh twist, designers belted and cinched blazers with a myriad of belt options. But, as happens in fashion, suiting also went in the exact opposite direction, with Ralph Lauren's ladylike gold blazer neatly belted on top of a sleek black dress. Either way, you'll want to break out a belt for all of your workwear needs come fall.
Duvet Dressing
When the first cold hits, it's not unusual to ponder leaving the house still wrapped in your favorite comforter, and this year you'll finally be able to come pretty darn close. Quilted coats along with patchwork details all felt reminiscent of none other than your usual bedspread. Thanks to designers like Prabal Gurung and Oscar de la Renta, you'll be extra cozy come fall.