Concepts Teamed Up With Versace On A Sneaker That Pays Homage To This Iconic J.Lo Throwback
Courtesy of Concepts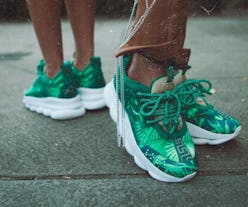 It's been almost two decades since Jennifer Lopez all but broke the internet with that gorgeous green Versace dress — you know the one. The daringly low deep-v neckline (if you can even call it that, considering it reached all the way down her torso) became the talk of not only tabloids, but seemingly everyone in the days that followed her Grammy's red carpet walk in the year 200, and we're still talking about it now. If that's not iconic, what is? And if you thought only J. Lo could pull of such a dazzling look, you'd be wrong. Well, kind of. That's because the Concepts x Versace Chain Reaction sneaker took the memorable dress and turned it into shoe form, so you too can rock the look.
In case you didn't know, Jennifer Lopez turns 50 this year (yes, it's unbelievable and yes, this writer had to double check, because how?). It's also been nearly 20 years since the age-defying actress, singer, dancer, and producer graced the red carpet and everyone's eyes in the jungle green stunner of a dress by Versace. And to pay homage to the frock (and the entertainment icon who rocked it) luxury shoe brand Concepts has teamed up with Versace to put a street-style spin on it by turning the sought-after dress into a sneaker.
Thus, the Concepts x Versace Chain Reaction sneaker was born. The very limited-edition shoe, which'll run you $1,075, features a jungle print motif in the same brilliant shade of green as the silk chiffon Versace dress, but instead rendered in durable nylon that can take to the streets. A contrasting nude leather tongue — which calls to mind the plunging, skin-baring neckline of Lopez's dress — and a chunky chain-linked white rubber sole offset the eye-catching green upper.
Other telltale stamps from the high-fashion label include a Greek key pattern on the toe box, and the Medusa head Versace logo on the heel. Slashes of translucent TPU panels in emerald green add a multi-textural look. Pair the bold sneakers with leggings and a cropped bomber jacket for a casual vibe, or even with a sultry dress of your own.
The soon-to-be collectable shoe launched on July 19 in conjunction with J. Lo's upcoming birthday (which is on July 24) in women's and men's sizes at Concepts' Boston and New York City stores, as well as online at 11 A.M. EST. If you happen to live in either city and want to grab a pair, consider doing so quickly — it looks like the limited online supply is already nearly depleted. Check them out on the brand's website, and below.