Burberry's New Collection For Mytheresa Is Going To Make Packing For Your Next Beach Vacation A Breeze
Mytheresa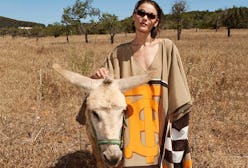 At this point in the game, you've probably curated most of your vacation wardrobe for the season — especially if you've already gone on a getaway or two. Of course, that doesn't mean you don't have another trip lined up just before fall hits. In which case, you have no reason not to add a few more pieces to the collection, right? And if you wanted to give your next beach vacation a touch of luxury, you're in luck: The Burberry x Mytheresa collection has just what you're looking for.
Burberry has gained a new level of attention since Riccardo Tisci took the reins as its chief creative officer in 2018. Since then, not only has the label introduced a new monogram, but it's also announced new sustainable climate goals — all the while maintaining its status as one of the top names in the fashion. And as it continues to make waves in the industry, it's only getting more popular. So why not get ahead of the crowd add some of its newest pieces to your wardrobe?
In an exclusive collection for Mytheresa, the iconic British fashion house has created chic swimwear and beach essentials that are practically begging to be in your suitcase. Whether it's an essential one-piece swimsuit, a flowing caftan, a plush towel, or a cool pair of sunglasses, this 12-piece capsule collection is about to make packing for your next seaside destination so much easier.
When it comes to packing for a beach vacation, more likely than not, it starts with swimwear. Give yourself an effortlessly cool (and undeniably sporty) poolside look with the Cleddau Swimsuit, $380. Or if you're more of a two-piece type of person, wear the $330 Cobb Bikini for a truly timeless option. When you're heading to and from the beach, throw the $990 Kalani Cotton and Silk Kaftan over your swimsuit as an easy cover-up. And if you want to give it more shape, wrap a belt around your waist.
Of course, it doesn't stop there. To finish off your ensembles, wear the $350 Cat-Eye Sunglasses or the $270 Logo Rubber Slides — even when you aren't near a body of water. And if you want to have a complete Burberry look when you're at the pool — or a simple way to show your love for the brand — take a $620 Logo Towel with you to display on your lounge chair.
Scroll down to shop the Burberry x Mytheresa collection below.