Burberry's Sustainable Climate Goals Are Setting A New Precedent In The Fashion Industry — Here's How
Burberry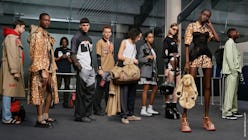 "The fashion industry's environmental impact is significant and growing," begins a quote by the Director of Private Sector Climate Mitigation at World Resources Institute, Cynthia Cummis, on Burberry's website. On June 25, Burberry's new sustainable climate goals were announced via its corporate website, boldly outlining the house's plan to majorly decrease its greenhouse gas emissions by 2030. Additionally, Burberry reaffirmed a pre-established goal with its followers: complete carbon neutrality for all operational energy by 2022 (something the brand has achieved already in select retail operations, including the United States).
"Burberry's ambitious science-based target demonstrates the leadership and innovation needed to succeed in a zero-carbon world," continued Cummis. "To prevent catastrophic climate change, it's important that all major apparel and footwear brands set science-based targets and pursue comprehensive strategies to decarbonize their businesses."
Burberry included the fine print, too. According to its website, the house plans to reduce its Scope 1 and Scope 2 greenhouse gas emissions — defined by the Greenhouse Gas Protocol as emissions created by a company's direct or indirect operations — 95 percent by 2022, using its 2016 results as its base year. Moreover, Burberry also plans to reduce its Scope 3 emissions 30 percent by 2030; similar to Scope 2 emissions, the EPA notes Scope 3 as indirect gas produced anywhere in a company's value chain from sources outside of its control.
"At Burberry, we are passionate about building a more sustainable future and setting these new targets in line with the latest climate science is an important milestone for us. For the first time, we are setting targets for greenhouse gas emissions that apply to our extended supply chain, which is a significant addition to our already ambitious target of becoming carbon neutral in our own operational energy use by 2022," reads a quote by Pam Batty, Burberry's vice president of corporate responsibility.
"Changing the system requires collaboration," she added. "And we will be working closely with our supply chain partners to take the action needed to stay on track and achieve our goals."
You can read more about Burberry's sustainability practices — both new and old — by visiting the house's corporate website.