This Is When You Can Shop Burberry's First-Ever Monogram Collection (& You'll Want To Immediately)
Courtesy of Burberry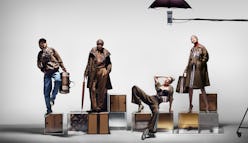 It goes without saying that an ad campaign is meant to get you to consider purchasing the products featured therein. Even so, it's relatively rare that a brand is truly able to transport you into a headspace that helps you envision yourself wearing everything it's offering — most of the time it's just a nice image to look at as you scroll through social media or flip the pages of a magazine. But the brand-new Thomas Burberry Monogram collection certainly challenges the belief that campaigns are just pretty pictures. Don't be surprised if you find yourself figuring out a way to buy it all.
The new campaign features Gigi Hadid in her Burberry print campaign debut as not one, but four complete characters that represent the iconic British label: the girl, the boy, the lady, and the gentleman. Hadid transforms into each individual to showcase the fashion house's latest collection, which was conceived by Riccardo Tisci in celebration of the heirloom Thomas Burberry monogram logo he unearthed in the brand's archives upon being appointed as Creative Director in March 2018.
And considering how cooly Hadid pulls off adopting the style of each of the four characters, it's enough to convince you that you, too, need absolutely everything in the new monogram collection after it launches in stores on May 22. Whether your personal aesthetic aligns most with the lady or the gentleman, the girl or the boy, Hadid shows you how to rock them all.
Aside from Gigi's masterful, chameleon-like modeling chops, the real star of the campaign is the Thomas Burberry Monogram. Initially created and launched in August 2018, it's back in this brand-new collection to grace a number of gorgeous pieces as an allover print, from the prim and polished trench coats that the brand is known for, to athleisure-inspired fanny packs, totes, and cross body purses. You can even find the fun new monogram print, which was created in partnership with British art director and graphic designer Peter Saville, emblazoned across a pair of cool sneakers and on a fringed, woven scarf.
It's a spirited, playful line that also pays homage to the past with modern takes on heritage pieces, resulting in a new house code that captures what Burberry is in the here and now. And while you can't get your hands on it just yet, you can start taking cues from the campaign by figuring out which character you want to channel — no judgement if you answer is all four.