Experts Say Avoiding This Online Dating Mistake Is A Game Changer
Shutterstock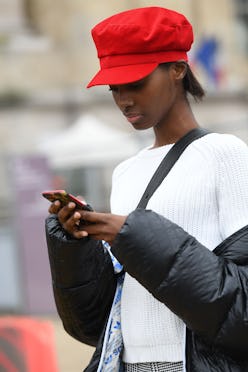 Not too long ago, many people felt a stigma around the concept of looking for love online. However, in 2019 using a dating app as a means of finding your next partner is about as casual and commonplace as using Postmates to order your lunch. But even though this way of meeting people has become significantly more popular, it's not a guaranteed success. That said, one way to significantly improve your odds is by knowing and avoiding some of the biggest online dating mistakes.
If you've dabbled in the world of online dating, chances are you've experienced both ups and downs — the downs including things like being ghosted, meeting someone who doesn't match the way they represented themselves, or not being able to find a person who meets the criteria of what you're looking for. And if that describes what you've been dealing with — more so than having some great dates, at least — you've also probably thought about throwing in the towel. But before you give up, some dating experts suggest re-evaluating some of your behaviors — as you could potentially be doing things that are hurting your chances of success.
From focusing too much on physical appearance to missing some significant red flags, you could actually be doing a number of totally common things that are sabotaging your likelihood of finding love online. Want to know if you're giving it the best shot possible? Ahead, find eight of the biggest mistakes people make when online dating — as determined by relationship gurus — plus how you can be sure not to make them.
Limiting Yourself
It's understandable to be a bit reserved when first dipping your toe into the waters of online dating. But according to psychologist and author Dr. Paulette Sherman (aka "the relationship doctor") you could be restricting yourself by staying limited to only one site. "Many people expect prospects to reach out to them once they make a profile and then nothing happens," she says. "To avoid this, be active on at least two dating sites. Reach out to 10 prospects a week and send a message. Think of this as putting boomerangs out into the universe to see what comes back."
Shying Away From Photos
It may seem superficial, but sharing photos is a necessary evil of online dating. And even if you're shy about showing yourself off, Sherman explains that it will actually improve your odds of connecting with someone. "Post from four to 12 pictures, including a headshot and a full body picture," she says. "Research says prospects are far more apt to contact you if you have pictures."
Focusing Too Much On The Physical
While being transparent about your physical appearance is important, dating expert and Dr. Seth's Love Prescription: Overcome Relationship Repetition Syndrome and Find the Love You Deserve author Dr. Seth Meyers notes that many online daters place too much importance on the prospect's looks. "Men and women miss out on romantic opportunities when they have a type that is too rigid or narrow," he explains. "Don't focus too much on ethnicity, style of dress, or other physical factors. Members of long-term couples often say the one they ended up with was different than their usual type!"
Being Too Passive
Ever matched with someone you liked only for it to lead nowhere? You're not alone. But Sherman argues that part of the reason could be that there was no call to action. "Many people just say they liked someone's profile without mentioning a topic or question at the end so the other person has a spring board for future conversations," she says. "To avoid this, pick something a prospect can respond to easily like inquiring about where they like to ski or their favorite memory from their trip to Venice."
You Bring Up Your Baggage Early On
Everyone comes with their own baggage — whether it be your past relationship, having a child, or emotional things you're currently working through. And while those are all things you don't want to hide from a partner, it's not necessarily something to lead with when you're meeting someone for the first time "Often while trying to be authentic, singles post about past baggage or limiting beliefs in their dating profile," says Sherman. "To avoid this, be upbeat and positive about love. Do not bring in your past or the negative things you do not want to encounter into your present dating experience, at least early on."
Doing Too Much "Research"
With so many things being available on the internet, it can be tempting to do a lot of your own research on a perspective date. And while a bit of that can benefit and protect you, Meyers warns that too much can also lead to a false impression — before you even meet. "Wait at least a couple of weeks to research your date and give that person a true chance," he recommends.
Not Seeing Red Flags
Being ghosted isn't cool. But Sherman suggests that you may be able to see patterns that help you notice someone who's more likely to practice such bad behaviors — and cut them off at the pass. "These online behaviors cluster around taking you for granted in various ways," she says. "To avoid this, expect to be treated well and once you observe a pattern of neglect or manipulation, it is time to move on."
Giving Up Too Soon
Lastly, while it's important to be honest with yourself and exactly what you're ready for, many people end up succumbing to what Sherman calls "dating app burnout" and calling it quits at the first sign of disappointment. Instead of throwing in the towel at these times, she recommends taking a short break first. "Oftentimes, singles get frustrated and drop out of dating sites" she explains. "You can take a break for a week, but dating is a numbers game so try to avoid giving up. Take time for self care and to refuel but keep on trying."