The Best Red Nail Polishes Of All Time, According To The Pros
Photo by Lucas Dawson/Getty Images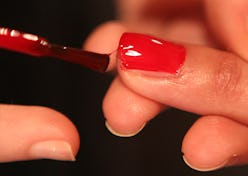 Much like crimson lipstick, red nails are a classic beauty choice. Red is historically bold, daring, and adventurous... and yet, there's something almost familiar about the best red nail polishes of 2019. Even though the hue is bright and often pushes boundaries, red nails add the right amount of color that can elevate any look.
"I love red nail polish!" nail expert Martha Fekete tells TZR. "I'm the happiest when I'm asked to use it at a shoot because it's great on all skin tones, all nail shapes, and all nail lengths."
If you're going to go red, finding the right shade is vital — and not always easy. Naomi Yasuda, a celebrity nail artist whose clients include Rita Ora and Lady Gaga, agrees: "There are so many shades of red and finding the perfect one can be tricky," she tells TZR. "It's very important to know your skin tone. For dark skin, I love bright reds with an orange undertone, and very deep purple reds too!" Celebrity nail artist Fleury Rose says medium skin tones can pick between bright and cooler reds, but, "for fair skin I like blue-based reds, or pinkish reds," Rose says.
And Julie Kandalec, a New York City-based nail artist, taught us a fail-safe way to determine how many coats of red polish you'll need: "When you unscrew the cap, look into the neck of the bottle at a 45 degree angle. If you can see through the polish that's on the neck of the bottle, you'll most likely need three coats since it's more of a jelly coverage," tells TZR. "But, if you can't see through it, you can get away with two coats and because it's more opaque." This trick works with similarly bright colors, but can be tricky with neutrals.
Still, even the best red polish can fall flat without a little help, says celebrity manicurist Kayo Higuchi tells TZR, who recommends a high-gloss top coat to seal in the shine. (TZR editors and the internet alike prefer Seche Vite's Dry Fast Top Coat, which garnered almost 1200 five-star reviews at Ulta alone.) "Also, hydrate your cuticles!" Higuchi says. "After the polish is dry, always hydrate the cuticles with cuticle oil." Extra points if you can remember to oil up your nail beds before you go to sleep every night.
If you're ready to make a list of the best red nail polishes, scroll ahead to see celebrity nail artists' top favorites.