I've Dyed My Hair Blue, Purple, & Pink — Here's How I Keep It Healthy
@aemiliafay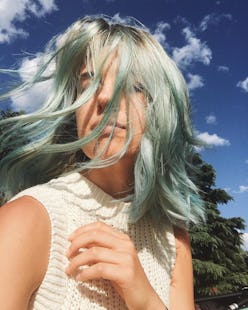 I'll never give up on calling myself a blonde. But as I grow older, the shade has gone from blinding blonde, to a subtle ash, to what I'll lovingly call "dirty" over the course of time. After eventually watching my hue creep closer to brunette territory, I finally decided to try color treatments in my early twenties. My first blonde highlights took me back to the tones of my youth, and I've also dabbled in unnatural colors, too — blue, purple, and pink. Though I love a fun punch of color, finding the best products for my color treated hair has taken a lot of time and experimentation. Pastel locks might seem intimidating, but for me, it's always been a lighthearted choice that's all about having fun with my look and routine. But easy and lighthearted still requires attention and maintenance.
Admittedly, I'm a bit lazy with my routine and have struggled over the years to stick to the upkeep required. But thanks to the work of my ultra-talented colorist, Lucille Javier at Sally Hershberger Salon in New York City, I found a routine that works. "I typically gloss you according to your mood," she always tells me. "I love when you come in and you are keen on having a spark of color of life in your hair."
Javier manages to highlight and color my hair in a way that looks just as good on the day I leave her chair as it does a few months later (as mentioned before, I'm not great at upkeep). "With each client, I try to fine tune their desires with what is most suitable to their complexion, style and lifestyle," she says. That means lightening my hair in a way that will grow out looking natural, and opting for colors that don't require a ton of work to maintain.
Over our four and change years together, she's also turned me on to a general haircare routines that has helped keep my hair strong, even through ongoing processing. "The best way to keep the hair healthy is washing it less," she suggests. "The more you embrace the natural oils, the better the color will stay and feel healthier." With any color gloss, I've found that simply cutting back on washes helps to preserve the color for a longer period of time.
But besides simply going for a more low-key routine, Javier and I are in agreement that a few key products can make all the difference. See them below.
Shampoo & Conditioner
For maintenance, I've trained my hair to only wash it once a week. When I do, my shampoo and conditioner of choice are the Bright Blonde shampoo and conditioner from Oribe. They're super rich and thick and they help maintain an ashy color that I love. Javier also recommends Davines Alchemic Conditioner. "It's better than purple shampoo," she explains. "It tones and hydrates!"
Dry Shampoo
Javier suggests investing in a quality dry shampoo for times in between washes.
Treatments
I also use a Shu Uemura's Color Lustre mask to help ensure that my color is toned and healthy. While a color gloss typically fades within a few weeks, with the right upkeep, it looks bright throughout the whole duration. I also do Olaplex once a week to keep hair strong and healthy.
Oils
"If you give your hair more TLC, you'll see more results," Javier says. To do this, she recommends avoiding heat when possible — both the blow dryer and styling tools — and opt for air-drying instead. To keep locks from looking frayed, use a hair oil while still damp — she swears by Shu Uemera, while I usually opt for one by Ouai.
Non-Damaging Tools
For times when using hot tools is unavoidable, try to minimize damage. Use the cool setting on your blow dryer, and shop for curling irons and straighteners that are ceramic.
That being said, dyeing your hair is all about embracing the fun and adventurous side of beauty, so don't get too weighed down by rules of care. In general, focus on moisturizing, try to limit the use of damaging tools and products, and take every opportunity to show it off.