These Are The Best Luxury Skincare Products At Target
Anna Webber / Getty Images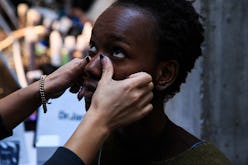 Target's hypnotizing effect starts the moment you see the bold, red sign on the building. You can walk in for one thing and leave with bags of home goods, snacks, and other unnecessary items, especially when you intend to head in for a single thing. No matter what mood you're in, you never leave with only what you came for — but, if you're going to go to Target and end up impulse buying, why not fill your bags with some of the best luxury skincare products at Target?
Read more: The 16 Best CC Creams On The Market, According To Rave Reviewers
When you walk down the beauty aisle, you'll find shelves that house brands like Vichy, La Roche-Posay, and Honest Beauty, to name a few that offer luxurious experiences without a hefty price tag. Even though these products are often more affordable than that of luxury skincare brands, board-certified dermatologist and celebrity beauty expert Dr. Anna Guanche tells TZR that "the price point does not necessarily dictate the quality or efficacy of the skincare product." That's not to say all cheap products are as good as the expensive stuff, but, as Guanche adds, "good products do not need to be overwhelmingly expensive, and they come in all shapes and prices."
And instead of taking a gander at the price to determine a product's efficacy, Dr. Annie Chiu, a board-certified dermatologist and founder of The Derm Institute, says it's the ingredients that matter most. "I like to look for products that have some clinical science supporting their efficacy," she says. "If they don't have that, I do look at the quality of the ingredients."
Ahead, see the best serums, moisturizers and other skincare essentials at Target, all curated by derms. Even better: these luxurious picks contain ingredients that offer real results (think: vitamin A, botanical extracts, and essential oils).
Moisturizers & Creams
Serums
BB Creams
Cleansers & Exfoliators
Skincare Kits
Eye Treatments
Toners & Makeup Removers