Target's 14 Days Of Beauty Deals Just Started & You'll Want To Shop Every Single One
Target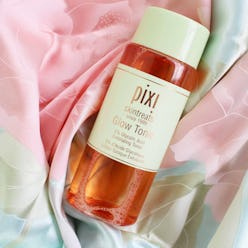 No one needs to tell you that Target's skincare and makeup aisles are forces to be reckoned with. The cult followings behind blossoming Target brands like Pixi Beauty, Yes To, and No7 grow each day, while classic drugstore companies like Maybelline and L'Oréal continue to release new products at affordable prices. Sure, you could go to a makeup store and drop a couple hundred dollars on your routine. Or, you could shop Target's 14 Days of Beauty Deals, which has already begun; all of the previously-listed brands and more will be discounted up to 50 percent off.
The Target beauty sale started March 10 and ends March 23, with specific deals happening on — and only on — each of the 14 days. You won't need to visit your local Target every day until the sale ends, too (unless you want to, no judgement here); you can shop the entire event on Target's website without leaving your house.
Which other makeup, skincare, and beauty brands will be on sale during Target's event, and which products will be discounted? To answer those questions and more, continue scrolling down. The March 11 through March 23 sales from Target's 14 Days of Beauty Deals are listed below.
March 11
All Method and OGX body washes (and liquid hand soaps!) are 40 percent off. Both brands have highly-rated scents on sale; for a product that usually retails for under $7, the Method Body Wash Pure Peace has rave reviews and shelfie-worthy packaging.
March 12
All COVERGIRL foundations will be 40 percent off on March 12. Yes, you read that right — all of them.
March 13
Not Your Mother's hair care products will be marked down by 50 percent off. Try out one of the brand's dry shampoos, frizz treatments, or the fan-favorite Blonde Moment Treatment Shampoo.
March 14
Get ready to stock up on falsies; false lashes and glue from Ardell and Eylure will be 50 percent off on March 14. This means it's time to try out the Ardell Wispies if you haven't before — the falsies are famous for being lightweight and natural.
March 15
Looking to add the serious skin-boosting ingredient glycolic acid to your routine? Wait until March 15, when Bliss' That's Incredi-peel Glycolic Resurfacing Pads will be 40 percent off.
March 16
What happens when you combine tomatoes, mud, and charcoal? The acne-fighting Yes to Tomatoes Detoxifying Charcoal Mud Mask. Both it and the Yes to Tomatoes Charcoal Peel Mask will be 50 percent off on March 16.
March 17
L'Oréal's Voluminous Mascara will retail for only $5 on March 17. Get it in classic "Carbon Black", or the trendy blue and burgundy shades.
March 18
All of BIC's disposable razors will be 50 percent. Not as exciting as the other deals? Think again. Already a steal for under $6, the 5-star BIC Soleil Balance Five Blade Disposable Razor has over 1,500 reviews on Target's website.
March 19
Want to try a true drugstore fan-favorite? Maybelline's Fit Me foundation and concealers will be 50 percent on March 19. Most of the line's products have a jaw-dropping number of reviews, but the Fit Me Dewy + Smooth Foundation takes the cake with over 8,500 for just the light shades.
March 20
Summer is right around the corner, so start getting your hair prepped. Sun Bum's hair care products will be 40 percent off on March 20.
March 21
At last, the days cult beauty followers are waiting for. Three Pixi Beauty Skintreats products will be discounted to $10 on March 21: the Retinol Tonic, the Rose Tonic, and the cult-famous Glow Tonic.
March 22
Not to be outdone, No7 will be running a sale March 22 on its $41.99 Line Correcting Booster Serum, marking the price down to $29.99.
March 23
To end things with a bang, Target is offering 50 percent off all Nexxus Color Assure products on March 23. The line uses elastin protein and quinoa to keep your hair vibrant, healthy, and strong.