Your Favorite "Instagram Brands" Are Thriving in Retail — Here's Why
Courtesy Mejuri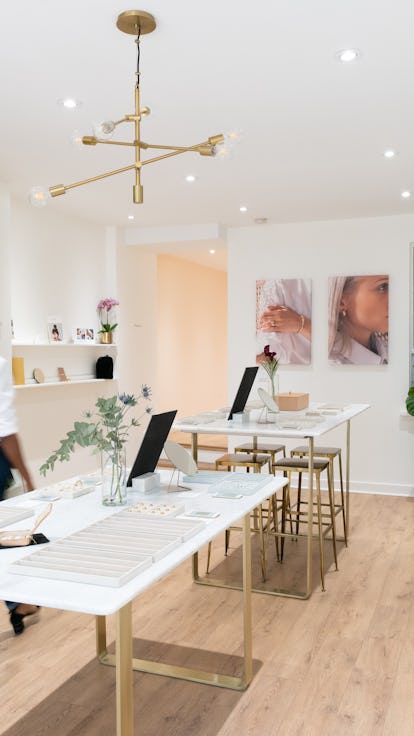 Among all of the luxury shopping, incredible food, and guaranteed high foot traffic in New York City's Soho neighborhood, you're also guaranteed to stumble upon a handful of popular online stores IRL. You know, the brands you didn't even know existed offline (or beyond their subway ads). And its not just clothing stores either — brands like Glossier, Everlane, Away, and Casper are setting up shop; a part of the now-seemingly natural progression of the best direct-to-consumer brands opening stores and moving beyond digital-only channels and taking their bets out in the real world.
And while this real life growth may seem counterintuitive given all the talk of the "retail apocalypse" that saw the closing and liquidation of hundreds of shops in malls, largely in 2017, these DTC brands are proving there's still plenty of room to thrive within the retail model. That is, if you play your cards right.
But what does that look like exactly? How does a brand that's mastered both the digital and social forward-thinking landscapes apply the same triumph to a completely different, and notoriously difficult, model? Below, the founders of three game changing direct-to-consumer brands — Mejuri, Naadam, and M.Gemi — pull back the curtain on how they turned digital-only businesses into brick-and-mortar success stories. Turns out, they're not as different as they seem.
Mejuri
Chances are your favorite Instagramers have already put you on to Mejuri, the digitally native line churning out minimal, everyday pieces that don't make you pick between high quality and an accessible price point. Launched in 2015, the brand has come a long way in short time — having just secured a Series B funding round of $23 million, bringing the brands total funding to over $29 million. It's impressive on any day, but exceedingly so when you consider its founder, Noura Sakkijha, was seven months pregnant with twin girls during the most recent negotiations.
Surely, the growth is touching every part of Mejuri business, from its Instagram following (currently more than 430k) to its rapid but measured turn into retail. With locations in Toronto, New York City, and a pop-up in Chicago, the brand is aiming to translate its online vibe to real life without following any of the traditional rules of retail. Their locations are called showrooms, not stores; their employees stylists, not associates.
"The secret is that no one on our team had opened a retail space before," Sakkijha tells TZR. "Instead of using an outdated retail blueprint, we set up a space we'd actually enjoy shopping in. Since we use a showroom model, we don't carry inventory in our spaces; you try on any piece you like, barrier-free, then it ships to you the next day. This means it's a streamlined, clean process with no waiting. We get so many questions on how to layer necklaces, stack rings and mix metals, and a stylist has not only product knowledge, but can answer personalized styling questions. This way it's a concierge, knowledgeable service experience as opposed to being just a transaction."
Focusing on what the experience looks like for customers outside of making an actual purchase is key for Mejuri, a brand that organically gained traction primarily through word-of-mouth and social community engagement.
"We truly don't think of it as just a transaction — you can buy online anytime," says Sakkijha. "What you gain from hanging out with us in real life is knowledge on styling, a relaxing experience and community-focused events. We regularly host piercing parties, panels, tarot and aura readings, brunch events. Anything we ourselves would love to do."
Naadam
Like most direct-to-consumer brands, Naadam was founded with a simple mission to change the way things have been historically done in the fashion world. Its particular undertaking? To democratize the cashmere industry by offering serious transparency, real sustainability efforts, better prices and overall, better quality than you can find anywhere else. It's a model seemingly perfect for a digital run, but the brand's co-founder and CEO, Matt Scanlan, is confident in the benefits of its retail presence.
"The pros are simple," says Scanlan. "Customers can experience our brand offline in a setting and environment that truly embodies our value system, our supply chain, and product vision. We can merchandise the store to take the customer on the journey that sometimes just isn't possible online. The cons, a physical store will never provide the scale our online business can but ultimately we view them as one thing in which one distribution channel supports the other."
Naadam is proof that the biggest difference between the retail of the past and the retail of today is expectation and awareness — viewing each distribution channel as its own, with pros and cons, and adjusting goals and plans accordingly.
"We're proud to be a company that's always learning and growing," Scanlan continues. "Our stores are just another way to improve our product and the customer experience as well as tell our unique story. While our online business derives quantitative data points related to product and consumer behavior, the store allows us to hear what customers like in real time. We use this library of qualitative feedback to influence everything from fit and size of product to brand decisions and communication strategies."
M.Gemi
M.Gemi — the brand bringing luxe, on-trend Italian-made shoes to the masses at an affordable price point — shook the table with its 2015 launch in more ways than just democratizing the footwear industry. Its supply model is simple but firmly unique: drop a new shoe every Monday. Aside from inciting newness on the regular, this schedule allows the brand to respond to customer behavior and demand in real time, and restock styles in as little as 30 days. This customer-centric strategy is key to M.Gemi's DNA, and its the reason why, when looking at retail, they don't chose to see either distribution channel more or less important.
"We believe that our retail and online experiences will compliment and preserve a lifetime value of our customers," says Cheryl Kaplan, M.Gemi's co-founder and president. "By experimenting further into retail, we've achieved an in-store customer experience that goes beyond just being transactional. It now further builds engagement and meaningful interactions between our brand and customer."
Now with two independent retail locations — one in Boston, where the brand is based, and one in NYC's newly minted Hudson Yards — the brand is well on its way to establishing how best to take advantage of these newfound interactions with customers face-to-face, and its paying off.
"This new way of interacting with our customers has [allowed us] to forge deeper, more dynamic relationships," says Kaplan. "And as a brand that consistently uses data when making product and inventory decisions, our retail presence has only increased the amount of feedback we receive — allowing for us to incorporate more of our clients' needs into our product."