Naadam Created A Cashmere Collection You Can Wear Year-Round (& You'll Definitely Want To)
NAADAM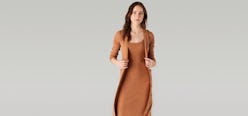 It's fair to say that "summer" and "cashmere" are two words you don't typically associate with one another. However, the Naadam Ultra-Thin collection brings this unlikely pairing together seamlessly. The knitwear brand's new offering of airy, silky-soft cashmere pieces means you'll no longer have to give up slipping on the luxe fabric when the temperatures start to rise. And, with the weather currently in flux, these no-fuss styles will slide effortlessly into your wardrobe as you start to shed your heavy sweaters and outerwear in favor of lighter layers.
As of March 25, the ethical cashmere brand is expanding its offerings, launching a new line of summer-ready ribbed knitwear that combines pure Mongolian cashmere yarn with sustainably-harvested, cruelty-free silk.
Though you may have already shopped Naadam's cozy closet essentials for the coldest months of the year, these new styles will allow you to continue to reach for its high-quality pieces as you make your way into spring. Better yet? They're affordable, with not one piece ringing in for more $200. Plus, the Long Sleeve Cropped Ribbed Top, the Ribbed Pencil Skirt, and two tanks are available for under $100 each.
In addition to the aforementioned styles, the lineup of Ultra-Thin pieces includes everything from a standout belted jumpsuit and easy-to-wear dresses to mix-and-match separates. Currently, you can shop the styles in three neutral colorways: classic black, warm ginger, and dark gray. And for those seeking lighter hues, you can pre-order pieces in pebble, powder blue, and a pretty pastel yellow, too.
A real standout in the collection is the cardigan dress, which is bound to become a springtime staple in your wardrobe. If you don't want to wear it alone, the versatile dress can be styled unbuttoned over sleeveless tops and dresses to keep the chill at bay during morning commutes and in overly air-conditioned offices.
As for those summer travels? Match up the cardigan with the Ribbed Jumpsuit, $175, for a chic in-flight look that's just as stylish as it is comfortable. Or, opt for a pant and top pairing for an on-trend head-to-toe knit outfit that's all ease. When you reach your destination, slip on a set of sleek mules and you can head to dinner right from the airport.
Continue on to start shopping the newest styles from Naadam and head over to the site to see the rest.