The Cookware Brand Top Chefs Can't Get Enough Of
Foxys Forest Manufacture/Shutterstock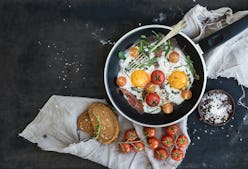 There are plenty of reasons to sharpen (pun intended) your skills in the kitchen, from having full control of getting good things into your body to being able to entertain with the best of them. But besides the recipes, pantry essentials, and a few pro techniques to have on lock, there's something else you should absolutely not be sleeping on to become the top chef you're aspiring to be (or at very least, just be able to cook a decent dinner every now and again), and that's nabbing the best cookware brands.
You may already know what essential pots and pans (including non-stick sets) you should be stocked up on, but do you know which brands to look out for? Just like you'd want chef recommendations for shopping cookbooks that will inspire you to try things outside your comfort zone or area of expertise, you'd also look to the pros to learn what are the best tools of the trade. For that reason, a handful of top Los Angeles-based chefs are putting in their two cents about the best cookware brands money can by — as well as what each one is especially useful for. Ahead, find five brands worthy of an investment for anyone looking to step up their culinary game.
All Clad
It kind of says it all that famed French Laundry chef Thomas Keller is an ambassador for this beloved cookware brand (he even collaborated on a collection at Williams Sonoma). And he's not the only culinary expert that cosigns. "For roasting veggies, we like to use All Clad in the pizza oven," shares Michael Beckman, chef at Workshop Kitchen + Bar in Palm Springs. In fact, you'd be hard pressed not to find the handcrafted-in-the-USA, high-performance brand in a top chef's kitchen.
Toiro
Some of the best brands out there might be ones you've never heard of, and that seems to be the case for this Los Angeles-based one, which specializes in pots that are perfect for cooking Japanese-inspired fare. Chef Keiichi Kurobe loves to use a Toiro donabes (clay pot) for dishes at his West Hollywood eatery Blackship. "I love them because they're incredibly durable and have multiple uses," he says. "Traditionally, Japanese rice is cooked in these donabes and they add such great flavor. I also love to cook my Jidori meat balls in a donabe because it seals in the juices and flavors during the cooking process."
Staub
You can't go wrong with a cast iron piece from this French brand. "We bake our breads and make our rice dishes in Staub dutch ovens and love them," Beckman says. And beyond their cooking value, many chefs — including him — utilize Staub's smaller pots for serving food with a beautiful, rustic presentation. "We also like to serve our brussels sprouts in [the brand's] cocottes," he adds.
Le Creuset
Beautiful and verifiably useful is this premium French cookware brand, that practically very culinary expert will endorse. "My favorite cookware brand is Le Creuset," says downtown Los Angeles restaurant District's Executive Chef Hansen Lee. "It is easy to use and to clean. While it's a little heavy, it heats quickly and evenly. Plus, it's stylish. You can serve the food in the pan or skillet, and it still looks elegant." Because they're a bit pricey, those on a budget might want to start out with just one Le Creuset piece, and according to many chefs, there's one that rises above the rest in terms of its value. "All you need is one good Dutch oven that will be perfect for all the braising and stews you make," offers Macks Collins, chef of Mad Pambazos. "Plus, they will last a lifetime since they have an iron core that heats super evenly, and the enamel coasting makes for an easy cooking surface and clean up."
GreenPan
In case you didn't know, while non-stick pans are great to have on hand for cooking things like eggs with ease, many of them are also super toxic, thanks to chemicals in the coating. That said, many chefs are loving this brand for its chemical-free offerings. "If you are looking for a great ceramic nonstick, Green Pan makes a great one that's perfect for fried rice." Beckman says. And as a bonus, the brand is also pretty affordable and available at a ton of major retailers.