These Cookware Sets Have Near-Perfect Reviews & Are Totally Worth The Splurge
Calphalon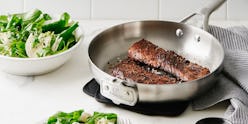 There is one place on the internet that hardly ever lies: online product review sections. Taking a look at Bed Bath & Beyond's top-rated cookware sets will teach you so much about which kitchen brands foodies are actually buying and how each pot and pan in a set performs in real life. So if it's time to replace your old cookware with a shiny new set — and you don't have a foodie friend you can ask IRL for shopping advice — Bed Bath & Beyond's savvy shoppers won't steer you wrong.
Go ahead and skip the initial top-rated products to find the sets with more than one or two perfect reviews. While the first ones are probably fantastic sets, you can ensure your new cookware is worthy of purchasing by browsing products with plenty of reviews to read. That said, the most note-worthy collection on the first page is the Calphalon Premier Space Saving Nonstick 10-Piece Cookware Set. Retailing at $469.99, the cookware set has a nearly perfect 4.8-star rating from over 250 reviews.
Getting that many people on the internet to agree about anything is impressive, but this cookware set accomplished such a feat. The set is designed to stack neatly and easily, freeing up 30 percent more storage space in your kitchen cabinets and keeping lids from mysteriously vanishing into thin air. Reviewers also note how effortless the nonstick, dishwasher-safe set is to clean once dinner is over.
The Ayesha Curry 11-Piece Hard-Anodized Aluminum Nonstick Cookware Set gets equally high marks, though at a $129.99 price. The set — from celebrity cook and cookbook author Ayesha Curry's line — features hard-anodized aluminum coated in a nonstick finish for controlled, fast cooking. Beyond that, though, it's impressive that such an affordable set was made to be oven-safe; the cookware can withstand ovens as hot as 500 degrees.
Do you need a cookware set that can go from stovetop to 500-degree oven, or are you leaning toward the set with all of the sparkling reviews? Want to look a little deeper? Below, seven top-rated cookware sets from Bed Bath & Beyond that won the battle of the review section.