The Celebrity Cookbook Everyone Should Have In Their Kitchen
AFF-USA/Shutterstock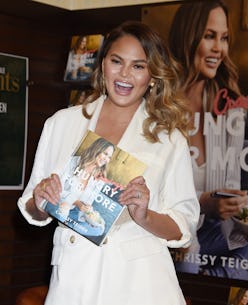 Celebrities. You probably assume a majority of them have in-home chefs who cook up delicious meals at a moment's notice, along with the perfect complementary glass of wine. And while, for some, this might be the case, most A-listers really are like everyone else in that they chop their own vegetables, cook their own pasta, and fry their own chickens. What's more, many in the Hollywood crowd have quite a knack for the culinary arts, which is why, lately, some of the top cookbooks are written by celebrities.
Yes, everyone from Chrissy Teigen to Reese Witherspoon has some skin in the game — and the game is good. That means at-home cooks (of all skill levels) have a wide variety of A-list-approved recipe options, whether they enjoy some good ol' fashioned Southern comfort food or vegan cuisine. There's literally a celebrity cookbook for everyone.
And while it's understood that cookbooks are often those things you receive as gifts and never use or buy on aspirational impulse and still never use, celebrity cookbooks often come with some intrigue, sparking a curiosity in you that makes you want to try the banana bread or macaroni and cheese that your favorite star swears by.
To prove that point, ahead, some recent (and a few not-so-recent) celebrity cookbooks that'll make you want to turn up the heat in your kitchen.
Cravings: Hungry For More By Chrissy Teigen
The second-installment of Teigen's culinary venture delivers all the unapologetic humor and deliciousness of the first (2016's Cravings) ... and then some. Loyal Teigen followers will love that her Twitter-famous banana bread made the cut this time around. But they haven't tasted perfection until they try the King's Hawaiian Pull-Apart Grilled Cheese (which is editor-approved!).
Magnolia Table: A Collection Of Recipes For Gathering By Joanna Gaines
Fixer Upper fans rejoiced over this one. Gaines' compilation of her favorite family recipes serves up the wholesome, authentic warmth everyone loved about her show. For a little taste of Texas, give the fried chicken with sticky poppy seed jam a whirl.
Whiskey in a Teacup: What Growing Up In The South Taught Me About Life, Love, And Baking Biscuits By Reese Witherspoon
Actor. Producer. Entrepreneur. Just when you thought Witherspoon had conquered everything, she goes and takes on the literary world. In fall of 2018, she released a book that weaves together all the Southern traditions, style, and, of course, recipes that contributed to her upbringing.
My Father's Daughter: Delicious, Easy Recipes Celebrating Family & Togetherness By Gwyneth Paltrow
While known for her clean eating regimen, the actor and Goop founder shows a different side with this culinary venture. Inspired by her late father's love of food and cooking, this book features some of the comfort foods and recipes Paltrow grew up with — and they are delicious. According to Amazon reviews, some fan faves are the grilled tuna and gruyere sandwich and stir-fry chicken.
The Kind Diet: A Simple Guide to Feeling Great, Losing Weight, and Saving the Planet By Alicia Silverstone
If you're down with the vegan lifestyle, this cookbook by one of the most famous veggie-lovers is a must. Silverstone, better known to most '90s kids as Cher Horowitz, has long touted the benefits of a vegan diet on her life and body. So, naturally, she put her money where her mouth was and shared some of the recipes she utilizes on the daily. Some stars of the compilation include the mochi waffles drizzled with lemon-walnut-rice syrup and radicchio pizza with truffle oil. Plant-based meals never looked so good.
From Crook to Cook By Snoop Dogg
Seeing that he's got a close relationship with the queen of entertaining, Martha Stewart, it's no surprise Snoop Dogg caught the culinary bug. The rapper and mogul released his first cookbook last year and it may be his greatest masterpiece, yet. While classic faves like baked mac and cheese are guaranteed crowd-pleasers, it's Snoop's take on the munchies (of course) that's making late-night snacking the best thing ever. Yes, magical treats like chewy Starbursts and Frito BBQ Twists make for culinary gold — and have fans begging for a follow up, stat.
Tangy Tart Hot and Sweet: A World of Recipes For Every Day By Padma Lakshmi
As the host of Bravo's Top Chef, it's no secret Lashkmi is one herself, so creating a cookbook is about as natural as it gets. If you're one for entertaining and want to impress guests with your cooking chops, pick up this gem from the food guru. Sophisticated and delicious recipes like tangy jicama salad, purée of roasted aubergine, and South Indian spinach and lentil soup are sure to be crowd-pleasers.
Martha Stewart's Cooking School: Lessons For The Home Cook By Martha Stewart
You can't have a top cookbook list and not include the queen herself, Martha Stewart. While Stewart has several under her belt, this compilation for beginners is great for cooking rookies. The entertaining icon goes into detail on how to do everything from making a great pot roast to baking pie crust.