Here's Exactly What's On Every TZR Editor's Beauty Wishlist This Year
Nécessaire / Instagram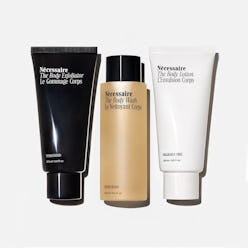 Ever tried shopping for beauty products you don't know much about for someone whose skincare and makeup preferences you're not intimately familiar with? Yeah, it's hard. But when there's a beauty lover in your life, sometimes you just don't have a choice. You probably know they'd appreciate *something* skincare- or makeup-related — you might just not know what that is, exactly. That's where the TZR team comes in. And no, not every member of the team is a beauty editor, of course. But since we're exposed to exciting launches every day and research products like it's our job (because it is), we know the best beauty gifts of 2019 worth putting on our own wishlists.
Sure, they may not work for everyone — beauty is personal, after all — but you can at least take inspiration from our well-informed, wide-ranging choices and use it to help you shop for others on your list.
So without further ado, continue on to see the gifts TZR editors themselves are hoping for this year — and don't be surprised if they end up on your own wishlist, too.