All The Beauty Looks From The Emmys Will Give You Endless Inspiration
Christopher Polk/Variety/Shutterstock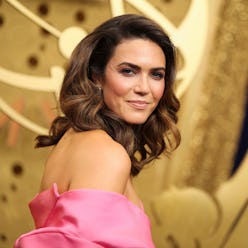 If you're a beauty fanatic, September is a pretty spectacular month. First comes New York Fashion Week, where world-famous makeup artists and hairstylists work their magic creating drool-worthy looks backstage. And while you're probably still on cloud nine from all the beauty ideas you plan to recreate from NYFW (see: vibrant shadows, glittery eyes, and a whole lot of blush), the Emmys are officially here. Spoiler: The best 2019 Emmys' red carpet beauty looks will surely be added to your list of inspiration to copy.
Just like the lavish gowns and stilettos, the beauty at the 71st Primetime Emmy Awards are just as worthy your attention. Celebrities showed up to the Microsoft Theater in downtown Lost Angeles on Sept. 22 looking as stunning as ever. The extravagant night is somewhat of a rare occasion, as you're probably used to seeing these stars in their character's makeup. For instance, Mandy Moore in This Is Us who portrays the typical low-maintenance mom from Pittsburgh, or Emilia Clarke in Game Of Thrones as a fierce dragon. But at the Emmys you're seeing them in a different light, how they want to glam up.
This year, celebrities left their characters at home and showed up in their own ultra-elegant makeup looks. This Is Us star Eris Baker arrived in a glittery look, bring Euphoria style makeup to the Emmys. And Mandy Moore looked breath-taking in a nude-pink pout and stunning rosy cheeks, matching her custom Brandon Maxwell, of course.
Ahead, find all the beauty looks that you'll be itching to recreate ASAP. And keep checking back as more celebrities arrive.
Regina King
Regina King's spidery long lashes took over her whole look.
Sophie Turner
Sophie Tuner's smoky eye looks incredible against her champagne gown.
Emilia Clarke
Emilia Clarke sports shiny straight hair and bold brows, per usual.
Catherine O'Hara
Catherine O'Hara's bold red lip adds a perfect pop of color to her two-done black and white gown.
Busy Philipps
Bushy Phillip proves pink hair can be elegant.
Angela Bassett
Angela Bassett arrives in perfectly groomed brows and a smoky eye.
Brittany Snow
Brittany Snow makes a case for an orange lip.
Christina Applegate
Christina Applegate turns heads in a bright pink lip and minimal eye makeup.
Ashley Nicole Black
Ashley Nicole Black looks flawless in funky curls and a dark red lip.
Viola Davis
Viola Davis exhibits a bold eye and equally vibrant red lip.
Maisie Williams
Maisie Williams arrives in a full brow and rosy lip.
Mandy Moore
Mandy Moore looks stunning in nude lips and blush pink cheeks.
Jameela Jamil
Jameela Jamil sports a bright red-orange pout, making her lips the star of the look.
Laverne Cox
Laverne Cox matches her mauve lips to her eyeshadow.
Laura Linney
Laura Linney goes for a soft finish, showing up in a light pink lip and minimal eye makeup.
Eris Baker
Eris Baker brings Euphoria vibes to the red carpet with her ulta-glittery makeup.